Jul 27, 2014
3,571
8,601
🥇 Banner finds
Detector(s) used

Minelab Excalibur II, Ace 250
Primary Interest:

All Treasure Hunting
Went back to the 1924 landfill, found lots of 1920's items (silver-plated spoons, cups, plates, bottles, even a well preserved wicker basket), but was surprised when a 19th century tooled-blob beer bottle turned up.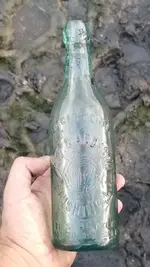 The bottle is a C. V. Garrison from Flushing, Long Island. Flushing is currently part of NYC and was incorporated into the city in 1898. Since the bottle refers to Flushing as part of Long Island this positively dates the bottle to before the incorporation date. This bottle was dug very deep in the landfill which convinces me the landfill is alot older than I had previously thought and the deeper down the older the artifacts. The only problem is this is a semi-underwater dig site so the holes rapidly fill with sea water. It is very difficult to dig more than than 2 feet deep. I will have to figure out a way to drain the holes.
Here is pic of some other dirty bottles I dug up but have not cleaned yet. There was also alot of very big fancy sea shells.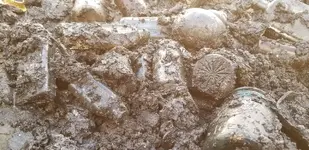 (Pics of all cleaned up knickknacks coming soon)