Apr 20, 2018
1,522
6,947
🏆 Honorable Mentions:
Detector(s) used

Fisher CZ-21, Minelab Excalibur,Garret AT Pro,
Primary Interest:

All Treasure Hunting
Went camping with the scouts last weekend and went to a ball field picnic area and got a few hours to swing the CZ21. The area is not used much anymore, but I have found a few goodies in the past. This time in 2.5 hours I managed 16 coins with a face value of $1.30, a buckle, a token, a leaf that looks like it might have been the decorative end of a curtain rod, a few tabs, cans and slaw. Not pictured is a toasted wheatie I gave to one of the leaders for his daughter who is starting to collect pennies.
The token is for PLAYLAND HAGERATOWN MARYLAND. On the other side it has a large clown face and says FAMILY AMUSEMENT CENTER. I'm not sure of the age, but I believe it has been closed for a good while now.
I went back to one of the schools for 6 hours of swingin old faithful CZ21 and managed to find 154 coins with a face value of $8.81, 2 rings (one acid destroyed and a plastic eyeball find), a fishing lure, a silver quarter, 3 wheaties, a Canadian nickel, lots of tabs, some slaw and miscellaneous junk.
The silver quarter was a nice find. I haven't found one in a while and this one happens to be from my birth year, a 1950D. The wheaties are 1940, 1941, 1956D. The wheaties will go to the guy I gave the toasted wheatie to.
You may notice the 3 railroad spikes in the junk box. I have found about 12 of them on this school field. When my coil goes over them I know that I am detecting large ferrous metal so you might be asking why dig them if you know that? The answer is simply. The large junky targets can mask better targets. By clearing the big stuff you can detect the smaller better stuff. In this case 2 of the spikes were in the same hole. After I got them out I swung the detector over the hole and got a coin signal. With my pinpointer I found and scooped out 3 quarters, 3 dimes and a nickel. So I am $1.10 better off because I removed the big iron. It doesn't always happen that well, sometimes is silver or gold. To me that makes it worth clearing some junk.
I went back to the good permission that has been producing all the wheat. I continued on my grid, but after about a half an hour one of the tenants came out and asked if I had permission to be there. I said I did and named the landlord. He seemed mad about something and said I was too close to his window and I shouldn't be allowed to be there. (The window is 7 feet off the ground and the shades were closed). About 5 minutes later the landlord called and he said I should probably leave so I did. I talked to the landlord later and he said if I can wait a little while so the guy cools down I can come back and at least do the back yard if not the area I was in. The place is the best producer I have had for a while so I will wait.
In the half hour I was there I did find a 1918 merc, 2 wheaties 1944 and 1956D and a coal mine chit. I was on a roll, too bad I had to stop.
So I moved to an area where the city has demolished some houses and I have permission to detect. I did some while the houses were still standing, but they are down now so I have to detect around the demolition trash. In 3.5 hours I found 89 coins with a face value of $3.60 (70 pennies), a live rifle round, a brass bangle, a piece sign charm, a Wilcox Pocket Ben in junk shape, 2 wheaties (1956, 1912) a whistle, an aluminum 1/2 teaspoon , tabs and junk.
I had a little time left so I went to a playground that I have covered pretty well, but there was a spot I wanted to check. When I got there I discovered they have built a new concession stand where the old one was and dug up a lot of the ground. They were actually working when I got there. I was able to check a big dirt pile and a few other spots where they were not working. In 1 hour I found a marble, 12 coins with a face value of $0.29 and some tabs. Not a great day, but silver at least and a decent pile of clad.
I took my weekly ride up to the scout camp and spent 6 hours swingin in the rain. It was only supposed to shower for an hour or 2 and ended up raining from start to finish.
I managed to find 178 coins with a face value of $10.18 (108 Pennie's), 16 camp tent pegs (smallest number ever), a rope tensioner, 2 balloon clad coins, a brass equipment ring, 1 sinker and lots of melted aluminum from the fire pits.
The balloon coins are clad coins that got super heated in the fire pit. The heat separates the clad layers and gas builds up causing the coins to swell. They are interesting to find but worthless.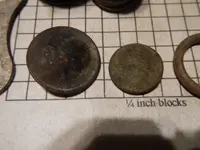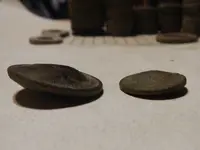 To finish the week I went to the old picnic ground. It has a football field, picnic area, grass parking area and a hay field adjacent to it that is owned by the same person. I spent a few hours in the hay field before it starts growing and gets too tall to detect in and then I went down to the football picnic area for the rest of the hunt.
I only found one wheat penny in the hay field, but I did find the flat buttons and rivets there and I have found silver in the past. In 5 hours of swingin I found 18 coins with a face value of $0.99, a ring, 2 wheaties, 2 flat buttons (a cuff with erect shank and a paper thin one with no shank and a little silver plating still on it), 2 copper rivets, a bale seal beer bottle cap with rubber in tact, a toy car, a weird hammer, can slaw and tabs.
The ring looked good at first, but closer inspection showed it was plated. Marked 18k GF S/AI. After I got it home and rinsed it off the gold started flaking off. Gold, but just barely (no value).
So another busy week with enough goodies to keep me motivated and lots of outdoor exercise to keep me healthy. Too bad a lot of the exercise was digging all those pennies. Thanks for looking, stay safe, good luck and may your coil lead you to good things.