Apr 20, 2018
1,578
7,358
🏆 Honorable Mentions:
Detector(s) used

Fisher CZ-21, Minelab Excalibur,Garret AT Pro,
Primary Interest:

All Treasure Hunting
I went to the another state park to do a little swingin. They had raked the beach and I could tell that there had not been many people there since it was raked. It looks like they are raking the beach daily. I could also see coil prints and drag marks of someone walking up and down the beach detecting. I could see that they worked about 2/3 of the beach and was hoping that did not do the water. I geared up and did a few swings on the beach and found 2 pennies so I had hope things would be ok. When I got in the water I found another penny on the third swing and then things were very quiet. After about 15 minutes I found 2 tungsten rings together in 3 feet of water and then nothing but a few pieces of foil for 2 hours. I don?t give up until I am sure every inch has been covered and it paid off in gold and silver. I spent a total of 6.5 hours doing the swimming area and about half of the beach with the ATPro. I always have it set on pro zero with iron audio on, iron discrimination at 30 and sensitivity 3 down from max. (This area has a sandy bottom, but the sand is not deep so I don?t want to hear all the stuff buried in the clay that I can?t dig up.)
I managed to find 48 coins with a face value of $2.95, a key knife, 5 sinkers, some odd rings, a few tabs and tab tails, 2 earrings, an Eiffel Tower charm, an earring back, a bead, 2 bits of chain, a wheatie (1953 D), 4 rings and the ever present aluminum foil.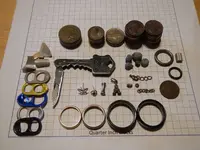 ​
The first 2 rings are a Swiss Tungsten pattern ring and a tungsten carbide ring with the Lords Prayer. There is a nicely patterned 14k earring with a blue topaz (I tested the stone) and a pretty little crystal butterfly made of silver. The gold ring is a simple wedding band. Not a honker, but the biggest gold I have found for a while. It weighs .11 troy ounces or 3.2 grams. The silver ring has a nice pattern. Both rings have makers marks.
The knife is a different find for me. What looks like a key, but is really a small lock back knife. It is of course ferrous and gave an iron signal, but if the signal is big and strong I am going to scoop it. It might be something interesting like this knife or just a big piece of junk that might mask a smaller better signal. I?m not afraid to scoop up trash and make the sand cleaner.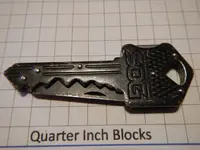 ​
With this being a little used park it doesn?t get a lot of detecting. Lucky for me because it was a good day. I have to go away tomorrow afternoon, but I should be able to get in a few hours at a park close to home (the last 2 were 45 minutes [park 1] and an hour [park 2] away.) Thanks for looking, stay safe, good luck and may your coil lead you to good things.