Apr 20, 2018
1,540
7,112
🏆 Honorable Mentions:
Detector(s) used

Fisher CZ-21, Minelab Excalibur,Garret AT Pro,
Primary Interest:

All Treasure Hunting
I grid search most of the time and usually end my hunts with a little walk around to even out the hours. Eventually I grid search areas that I have walked over many times and still find a decent amount in the grid search. This tells me that gridding is the only way to be sure you have MOST of the goodies collected. MOST is emphasized because even the best grid searcher doesn't get it all. Some of those little stinkers are just hard to get a signal on and if your swing is a little off you can miss things very easily.
I went to one of the middle schools that used to be a high school and did a little swingin. I spent five hours with my CZ21 hoping to find some goodies.
All together I found 111 coins with a face value $9.33, 2 wheaties, a Rosie, a cheapie ring, a silver whatzit, a LEE jean fastener, a quarter that was beaten to death, part of a toy car, some tabs, can slaw and whole aluminum cans.
The Rosie is a 1950, my birth year, and the wheaties are a fair 1936 and good looking 1946. The silver whatzit is interesting. When it came out of the ground I thought it was plated. But when I cleaned it up I could tell it was silver. It looks a lot like the finger button from a trumpet, but it is not flat and it has a female thread instead of the male thread normally on those. I'm not sure what it came from but silver is silver so I'll take it.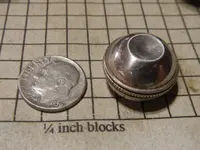 Next I went to the other middle school hoping for more civil war goodies and of course some gas money.
Gas money was all I got worth keeping. 52 coins with a face value of $2.37, a destroyed toy plane, a 1958 wheatie, a holed memorial penny, tabs and a pile of can slaw.
So I went back to the swimming area to cool off and to find the missing wedding band. That is a separate post (Wedding ring found against the odds and on its way home). It was a good day for jewelry. In 3.5 hours the ATPro and I managed to find 2 silver earring backs, a silver earring, a gold ID bracelet, a gold ring, a stainless earring, 2 selfie stick retainers, a mom necklace, 7 cheapie earrings, 3 bracelets, one twisted up can tab, a hat pin, a "looks like gold" cheapie necklace, 27 coins with a face value of $3.79, a toy car, foil, 2 swim goggles, a mermaid doll and a few hair pins.
Again you might do well to dig those foil signals. This hunt I dug 10 or 12 VDI 41 signals and all of them were foil except one and it was a 14k ID bracelet. A nicer kind of foil than aluminum wouldn't you say and well worth the extra effort. (0.12 troy ounces or 3.7 grams) The wedding ring is 18k and is inscribed with a name and date and it was the one I was looking for (0.18 troy ounces or 5.5 grams). (More about the ring in the HONORABLE MENTION post: Wedding ring found against the odds and on its way home ). Nothing big but gold is gold and returns are worth more to me than the gold.
The silver was small, but it all adds up. The markings on the earring are etched instead of stamped this time and can only be seen if you hold the earring at an angle.
The coinstars have been empty lately, but I did manage to find 1 quarter the other day. The coin returns on the vending machines were good this week. We took 2 trips to the mall to walk in the heat one day and thunderstorms another. One day 2 quarters the next trip 5 quarters, 2 dimes and a nickel as well as 2 pennies and a dime on the floor. Best mall finds in a long time.
I went to some local parks to do a little swingin of the CZ21. Not great places to hunt, but you never know what might turn up.
The first park has a tot lot and a pavilion and not much else. In 2 hours I found 45 coins with a face value of $2.40, a mashed aluminum bell like the ones we put on the Christmas tree when I was a kid in the 50s, a wrist watch with a the fancy band in pieces, a complex strap buckle( looks like it os probably from the 40s or 50s), 2 keys, a 1948 wheatie and a few tabs.
The next park also has a tot lot and is a lot bigger. I started in the tot lot and found some coins and an interesting stone pendant. Then I worked my way around a pavilion and around the basketball court. In 2.5 hour I found 88 coins with a face value of $5.51, 2 toy cars, a brass gas valve, a silver ring, the stone pendant, tabs and can slaw.
The ring is partly mashed and has what looks like malachite stones in it. The style suggests it has a little age on it. Cool looking ring, hopefully I can straighten it out.
One more outing finished the week. I went back to the civil war bullet school. No bullets in the last few trips and none this time. I am covering the ground inch by inch and maybe I have them all and maybe there are more waiting for the next swing. We will have to wait and see.
I spent 3 hours working a grid and some swings on the way to the grid and on the way back. All together I found 51 coins with a face value of $2.33, a Rosie, 2 rings, a finger button from a brass instrument, somebody's drug pipe, a few tabs and a small pile of junk.
The Rosie is a well worn 1946 with a scratch above the ear. The first ring was found right behind my truck about 3 feet from the edge of the parking lot. It looks like it has been run over several times and then pushed into the grass by a snow plow. When I found it I tought it was a junker, but I gave it a little rub on my jeans and it shined up some so I thought there was hope. When I got it washed up I took a good look with my magnifying glass and found the 925 marking. The second ring I knew was plated right away. It is an AVON ring. Another good day for silver.
Here is the silver whatzit and the brass instrument finger button side by side. It is easy to see that the finger button is plated and the plating is coming off. The mother of pearl or whatever was used as an insert on the top of the button is deteriorating and is almost gone. The whatzit is definitely not a finger button from a brass instrument. Any ideas out there?
So a good week altogether. 8 silvers, 2 golds (including a ring return) is better than most weeks. Nothing old, but who knows what tomorrow will bring and the gas money keeps adding up. Too bad it's still not enough to actually pay for the gas it takes to get out and detect. LOL
Thanks everyone for taking the time to look, stay safe, good luck and may your coil lead you to good things.