Apr 20, 2018
1,608
7,563
🏆 Honorable Mentions:
Detector(s) used

Fisher CZ-21, Minelab Excalibur,Garret AT Pro,
Primary Interest:

All Treasure Hunting
Things at the scout camp are getting cleaned out pretty good since I have been hitting it hard. I go once a week as long as the weather is not too bad in the winter and twice a week in the spring. I went this time with low expectations, planning to hit several program areas which don't usually have as much to find. You have to try them because you never know what will show up. After I parked and was walking to the spot I wanted to start I went by an area I had hit part of in the past and decided to give it a try. (Change of plans). My first target was a neckerchief slide. My next target was another one. Very unusual. So I kept at it and completed the entire area with 6 neckerchief slides. I went to 2 more areas and detected as I went.
I spent 5 hours with the CZ21 and found 150 coins with a face value of $9.91, 35 camp tent pegs, a stainless dining hall knife, 5 rope tensioners, 3 Webelos slides, a Boy Scout slide, a Tiger Cub slide, 4 older Cub Scout slides, 4 tokens given as rewards at camp, 4 cob coin replicas, a new style First responder Webelos pin, a bear pin, an older style citizen Webelos pin, a really toasted flat button, a dolphin ring, a 1946 wheatie, four pin backs, 11 bullets of different types, only 6 tabs and a small batch of trash. Even though some of the bullets are round balls, all 11 were found on a dozer pushed up hill side so I think these are from target practicing.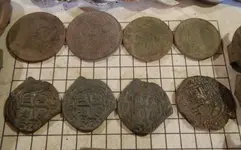 9 neckerchief slides is quite a haul. Normally I only find 1 or 2 at a time and I don't find them every time I detect here. I think the best I have done in the past is 4.
The ring was found as I went from site to site. I was looking ahead and got a high tone signal at end of my swing. I looked over to see where to dig and there was the ring on top of a leaf right on top of the ground. Groups rent campsites and buildings during the winter so someone probably lost this one last weekend. It has a little tarnish on it, but it's not marked. My guess is it's probably plated. It's a nice ring as is and I can probably get a few bucks for it in my yard sale so good find.
I am pretty sure this is a flat button. The acid soil can be really hard on copper and clad coins in some spots here at camp. Some of them come out of the ground paper thin and smaller in diameter. You can see the solder used to attach the shank in the center. This was found close to the area I have found a large cent and other flat buttons. It is also fairly close to an area the camp ranger says has the original house foundation. (No cellar hole, just stone piles in a square area). This area is on my schedule to be covered later in the winter or in the spring.
I also went to ball field in a small town about 8 miles away. I spent 5 more hours with the CZ21 and found 81 coins with a face value of $9.17, a brass whatzit, a copper bullet jacket minus the lead, a small lock key, an old glass fuse, a bunch of tabs and miscellaneous junk. A decent coin day, but nothing special. I only posted the fuse because some of the younger folks on here may have never seen one. This is the type used in my house growing up in the 50s. Sometimes you find a porcelain one and they are much older.
The brass whatzit is interesting. It looks like it has a cap that might come off. The broken base shows that it is a container inside a container. I can't see any markings on it. Any ideas folks?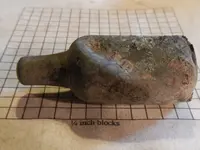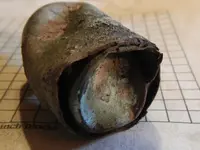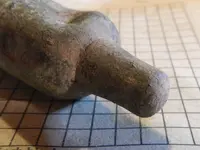 So lots of clad, scout camp goodies and safe fresh air exercise in the unusually warm December weather. It's funny how it goes, freezing my fingers off in the snow one week and sweating in my coveralls the next.
Thanks for looking, stay safe, good luck and may your coil lead you to good things.