Apr 20, 2018
1,540
7,112
🏆 Honorable Mentions:
Detector(s) used

Fisher CZ-21, Minelab Excalibur,Garret AT Pro,
Primary Interest:

All Treasure Hunting
I went to the 1880 house with high hopes. When I got there I discovered the yard was much smaller than I thought. There were also 5 large maple trees and ample roots can be a real problem for digging. When I got geared up with the CZ21 and started swingin and then noticed there was an overgrown brick walkway along one side of the yard. My hopes for the hunt were fading fast, but I kept swingin and hoping for the best. About 10 minutes into the hunt the neighbors dog stuck his head between the fence boards and started barking so loud I could not hear the beeps from the detector. I turned up the volume and slowed down, but it was still very hard to hear. Eventually he got tired and stopped barking, but I almost gave up.
I spent 5 hours finishing the yard and ended up with 64 coins (50 pennies) with a face value of $2.30, a spoon handle, a collar stud, 2 play money half dollars, a lamp finial, a Mickey Mouse pin, a gold ring, a silver dime, 7 wheat pennies and a box of miscellaneous metal.
The 2 play money half dollars each have a nail in the middle like they have been repurposed for some other use. The wheaties were plentiful. They are 1930, 1939, 1939, 1951, 1951, 1951, 1957. Funny how the dates repeated themselves.
The silver Rosie is in bad shape. It is a 1946 and was on the edge of the gravel parking area mixed in with the gravel. It has been mixed in the gravel and exposed to road salt for years so that explains why it is stained and worn. The gold ring was a nice surprise. It has been almost 9 months since I found gold in the dirt. I found numerous pieces of gold in the water and sand, but not in the dirt. It was not very deep so it may well be a recent loss. I will have to check with the owner when I return next week to see if anyone in the family lost it. It is 14k and weighs .13 troy ounces or 4.2 grams. Not huge, but the best I have found for a while.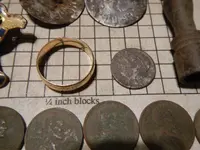 ​
I will come back next week to redo the yard with the Excalibur at a 90 degree angle to the first go round and see if I have any luck. Normally mostly I find trash, but sometimes I find a few coins or other goodies. Only time will tell. I need to see if the owner will still allow me to detect the dirt floor basement. It looks promising, but you never know.
A little silver and a nice man?s wedding band saved the hunt. Thanks for looking, stay safe, good luck and may your coil lead you to good things.