Jun 22, 2004
61
25
Detector(s) used

Minelab Excal. Whites DFX, Garrett 250 and Pro Pointer
Primary Interest:

All Treasure Hunting
First try with new format!
After a month of hunting some Florida beaches, I hit silver,gold, ice and fire! Yesterday, Tuesday, I found a 925 silver ring with what appear to be three garnets at Venice Beach. Later in the afternoon I finally got a parking space at Siesta Beach and after some water hunting, which got a Tungsten carbide ring and a cheap band and ear ring with stones, I headed to car and hit a 14k ring with 3 rubies, the wife's birthstone!

Got them with the Excal. Went back for the DFX and got a cheap gold ear ring and what appears to be a white gold ring with 2 rows of 15 baugette diamonds. There does not seem to be a mark of any sort in the ring but may have worn off. It is quite heavy and read a strong 30 on the DFX. First gold in 2 years! Not enough time out I guess! Thanks for looking!!
Today's find is the silver necklace also reading about 30 on DFX, HH Lloyd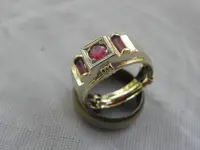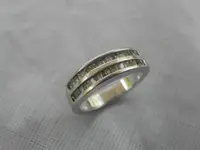 Last edited: