Sep 26, 2014
2,521
3,118
🥇 Banner finds
Detector(s) used

XP Deus; Minelab E-Trac; Son (Wyatt) uses XP Deus!
Primary Interest:

All Treasure Hunting
Well, we have had months and months of rain out our way and most places are wet and muddy!

Today, we had a beautiful day with 60 degree weather. The doggies have been inside as have we so it was time to get out and do some swinging. We hit one of our favorite sites just to get out. Started out just walking the old ghost town when the son said he wanted to try digging out some of the old Depot area of the tracks. The depot was built next to the old NCO rail line in 1891.
Not wanting to dig, I walked around while he dug and dug and dug. Feeling bad I decided to walk next to him and see how he was doing. He had found an old metal box buried in the middle of where the old platform sat around the depot. He found a coin in the dirt and so I thought I had better dig out some of the wall areas as well.
With our dogs helping dig and after moving some good size rocks that had been part of the foundation; I get a repeatable signal. Dig out a little more and there she was. I run off yelling like a little school girl as my son picks up the gold disk and calls me every name in the book. Turned out to a nice looking (except for the rust and crust) 1886-S $5 gold piece. (After hitting this place for over ten years, there's always something left

)
After having a couple of beers and sitting in the dirt. I help the son dig out and scan his piles of dirt for him. He dug out an old 5 cent trade token in good shape. Not feeling to bad for him since he did find a 1915-S Barber Half the other day here lying on the ground in the old barn in the same area.
Anyway......finally out and about again so this was a nice start to the year!!!!
digging in the old depot area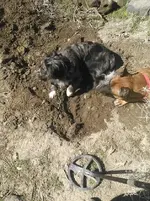 my helpers!