Apr 20, 2018
1,421
6,293
🏆 Honorable Mentions:
Detector(s) used

Fisher CZ-21, Minelab Excalibur,Garret AT Pro,
Primary Interest:

All Treasure Hunting
I got the new ATPro to replace the one that died. The old one was 5 years old and had 658 hours of use so it did pretty well I guess. I?ll send it for repair next week. I went to a lake swimming area that I do once a year. It?s further west and higher in the mountains so it?s colder most of the time and doesn?t get enough use to go more often. I spent 7 hours swingin the ATPro in the water. I managed to cover about half of the area in my normal grid pattern and I did a quick wade through the rest of it. I will go back and do around the playground and picnic area later, but I am done with this park?s water for this year. For the most part it was pretty quiet, a lot of dead swings. I did manage to find 16 coins with a face value of $1.29, 2 fishing lures, 2 pellet gun pellets, a pile of sinkers, 2 pieces of chain, a plated crucifix, 4 cheapie earrings, 6 tabs, 3 beads (2 skulls), 3 silver earrings, a Canadian dime, 3 rings and a pile of aluminum foil bits. (The foil was plentiful. At least 3 or 4 pieces for each better find.)
​
The noteworthy jewelry consists of a silver cz stud with gold plating, a small decorated hoop like some I have found in the past, a small hinged hoop with 3 square czs, an Avon silver ring with white topaz, a gold tone SPIKE stainless steel ring and an aluminum kiddie ring. Not quite as good as I had hoped, but a very respectable hunt. You never know what the next swing will bring.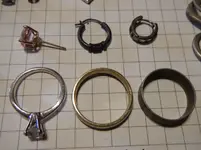 ​
The folks with the 1880 house have recovered from the virus and I have permission to start my hunt tomorrow. With a little luck I will have some more goodies to show soon. Thanks for looking, stay safe, good luck and may your coil lead you to good things.