Apr 24, 2013
3,849
7,434
🥇 Banner finds
Detector(s) used

AT Pro, XP Deus
Primary Interest:

Metal Detecting
Today was Day 7 of our heatwave up in the Boston area. This morning the temperature was hovering around 90 degrees with very high humidity. I couldn't ask for much better detecting weather, so off I went into the woods. I only lasted a couple of hours , but managed a couple of nice finds.
The highlight of the hunt was a National Lancers coat button ( Albert's MS73). The Lancers were organized in Boston in 1836 by Massachusetts Governor, Edward Everett, and served with distinction during the Civil War as part of the 1st Massachusetts Cavalry. They fought in 11 battles and campaigns during the war, including: Antietam, Fredericksburg, Chancellorville, Gettysburg, and Petersburg. This single piece button is in nice shape, and cleaned up pretty well. The back mark reads " Robinson's Xtra Rich"
The other interesting find was a Jamaica One Penny. The coin dates to the early 1900's, and it looks like someone turned it into a pendant. How it ended up in the woods of Massachusetts is probably an interesting story.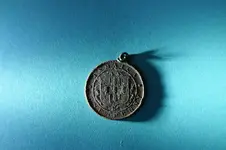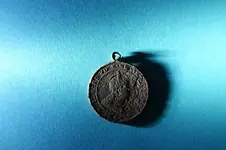 Happy hunting all!