Hero Member

Jan 27, 2015
796
2,581
🏆 Honorable Mentions:
Detector(s) used

Minelab Equinox 800
XP Deus
Primary Interest:

Metal Detecting
Hi everyone. Yesterday I spent the afternoon at that same field where I found
http://www.treasurenet.com/forums/t...alf-other-silvers-sidewalk-nowhere-field.html
. It was hot and I only brought a small bottle of water (mistake).
I was joined by a friend Alex and his 8 year old son; they detect together using a Minelab Vanquish, and his son is great because he knows all about old coins (years minted, which ones are "key dates", etc.). I'll show their finds at the end.
Alex, his son and I headed to an area we had not detected before, but one that I knew had an old camp building (probably a bunk house) from the 1960 era. I knew this from reviewing old aerial photography (historicaerials.com is so great!).
I was using my Equinox 800 for most of the day, but I didn't find much in that field other than a spill of memorial pennies (about 8 or so) and a few other pennies. Alex and his son found a Buffalo Nickel pretty quickly, so I was digging mid-tones (12 VDI on the Equinox +/- 1) and I did find one nickel (modern) but dug a lot of beaver tails.
I decided to make my way back toward the car after about 2 hours of searching, without much to show for my efforts honestly.
There is a baseball diamond at the field, and earlier this year one of the first great finds from this location was discovered in the outfield along the first-base line: Alex and his son found a Peace Dollar there back in April! As I walked past it to get to the car I was swinging my detector along the way. The first good target was a double: two aluminum tokens in the same hole. The tokens are from the 1968-69 Shell Oil promotional game "Famous Faces and Facts". I know they are from 1969 because one still had some of the original white packaging with it.
As I continued toward the car and with the Equinox in hand I got an interesting coin signal, so before I recovered it I decided to grab my Deus with the elliptical HF coil and do some comparison videos. The compilation of those comparisons will be included at the end of this post as a video.
Spoiler alert
: I'm going to tell you what I find in the video. Watch the video now if you like suspense....
---------------------------------------------------------
Ready for the finds?
The first target seemed like it could be a silver dime but ended up being just a modern dime, but the weird part was that the Deus did not like it and if I'd been using the Deus I would have skipped the signal.
The second target was awesome though, and both detectors loved it. The reason: it was a Standing Libery Quarter, and although it's way too slick to see a date it's still a beautiful coin - and it made the trip (and the dehydration) well worth it!
Right next to the SLQ was another coin signal that turned out to be a penny, and not too far from that was another penny and the fourth coin that I captured comparison video of.
If you like to see how the Equinox compares to the Deus identifying coins in a park situation, you may enjoy my video. (
NOTE
: I'm not a YouTuber and I'm not looking for views or subscriptions; I'm just trying to share my experience and little bit of knowledge.)
Overall it was a great day despite the heat, and I'm very appreciative that I managed to find this field! (And I'm happy I've shared it with my friend and his son too - see his finds below, they're better than mine!)
- Brian
My finds from the day (with a few notes):
- It was a penny-filled day. I was digging them because they kept coming up 23-24 VDI on the Equinox. 3 wheat pennies vs. 22 memorial means I was in the "newer" part of the field.
- the cross is aluminum; the button is the 3rd of that type I've found, and says "Spectemur Agendo" or "let us be judged by our actions."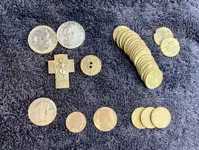 Alex and his son's finds (pretty good with a Vanquish!):
- the heart pendant is silver and is from Tiffany & Co.
- he got two Buffalo Nickels, and one has a clear date (1936).
- the other pendant and chain are steel or aluminum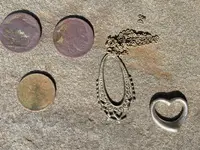 The comparison video: