Hero Member

Jan 19, 2014
915
1,887
🥇 Banner finds
🏆 Honorable Mentions:
Detector(s) used

Deus II, EQX 800
Primary Interest:

Beach & Shallow Water Hunting
99% of my detecting is done on central Florida beaches. Since it's impossible to establish a well stocked test garden at a public beach, I sorta brought the beach home with me and developed my own private "beach garden!"
I cut slots in a large empty chlorine tablet bucket at various depths as shown from 3 -16 inches. I then filled it with New Smyrna Beach sand. (I did the same with soil in a separate bucket for land hunting)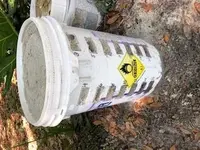 I embedded numerous examples of ferrous and non ferrous targets into paint stirring sticks. I also have several blank sticks I use to attach gold and silver jewelry as well as artifacts I don't want permanently attached to a stick.
I then insert the target(s) in the slots at the desired depths for scanning.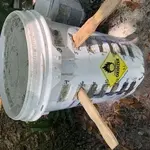 This allows me to rapidly change the targets and the depth.
This is particularly useful since I can test for both sensitivity at depth as well as separation of ferrous and non-ferrous targets at a variety of depths in actual beach sand where I do my detecting.
If I want to test in wet salt sand, I just soak the bucket sand with authentic sea water that I brought home from New Smyrna Beach...and the Atlantic Ocean never even missed it.
I've been using my version of a "test garden" for a number of years now and it's proven very useful as well as extremely convenient for my purposes.
The first thing I did after bringing the sand and soil home, and it's very important, was to spread a tarp on an area that was target free and scan all of the sand and soil for unwanted items that would bias my testing.
When not in use, I cover the buckets with their factory lids. The sea water is kept in sealed jugs so it too remains uncontaminated.
This "beach garden" has worked well for me over the years....