Dec 15, 2010
4,470
3,762
Detector(s) used

Minelab GT; Sov Elite
Primary Interest:

Beach & Shallow Water Hunting
HI

Out again at low tide for 2 hrs. hunt.
Not much takings today, but on my final "stroll" towards the shoreline heading for home, I hit a nice mid-high tone target; what I dug up was a ring.... hideous on first sight...looked like corroded copper or rusted "something", and was about to put it in the trash....but then I noticed a pretty stone ( ? green turquoise) in the center , and some decorative styling on the sides, so I brought it home.

Decided to electrolyze it , expecting nothing to come of it, but curious just the same.

Nothing came of the electrolyzing

, but undaunted, I decided to try some baking soda and ammonia soak on it....there was just "something " about this ring that wasn't "ringing true"

Wow! Was I surprised to see the finished product after some soaking and scrubbing.
Here's some pics
Thanks for looking at my finds
Lorraine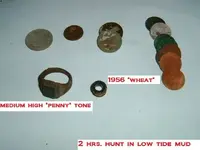 This ring must have been in that ocean mud for a verrrrrrrrrry long time.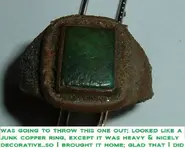 looks maybe "custom -made" ?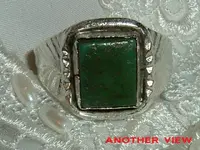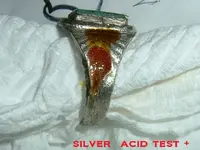 green turquoise stone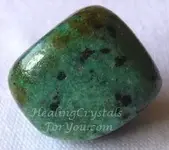 Last edited: