Apr 20, 2018
1,471
6,586
🏆 Honorable Mentions:
Detector(s) used

Fisher CZ-21, Minelab Excalibur,Garret AT Pro,
Primary Interest:

All Treasure Hunting
I have been digging a ton of clad, but not much else. Today I went back to the old church picnic ground. I started on the upper hay field and got lucky with the barrel tap, Indian and wheatie. There were a few bits of brass but not much else in the field. All the other coins and other stuff was found down around the lower field that is used for pee wee footbal, these days.
In 5 hours with the CZ21 I found 35 coins with a face value of $2.33, a barrel tap handle, 2 pieces of melted brass, a shotgun slug, a lead seal, an IHP, a wheatie, a Buffalo, a silver merc dime, tabs and a few bits of foil and can slaw.
The Indian head penny is an 1892 and is really crusty on the back. It gave a mid tone signal instead of the normal high tone. I guess the soil conditions deteriorated the metal to alter the signal. The wheatie is a nice green 1917.
The buffalo is also kind of crusty and is a 1935 while the Mercury dime is a nice clean 1943. I still love the Indians and the mercs. They are beautiful coins.
It is normal to find melted aluminum, but finding melted brass is unusual for me. It took a real hot fire to do that. When I dug the shotgun slug I thought it might be a civil war bullet, but a little cleaning revealed the hole and told me it was from the shotgun.
The lead seal looked like a mashed round ball at first. But when I cleaned it up I could see the wire sticking out of the ends. It doesn't have any marking so it could be old or more modern. It's hard to tell, but my best guess is modern.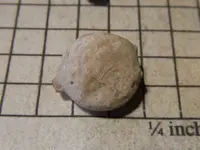 I went back to the George 2 ball field hoping for more good luck. I spent 5 hours swingin the CZ21 and ended up with 90 coins with a face value of $6.13, a large copper disc, part of a drawer pull, part of an e-cigarette, a toy tractor hit by the lawnmower, 2 wheaties, whole cans, tennis ball can lids by the tennis court, tabs and can slaw.
The drawer pull part is the back plate. The part holding the pull knob goes through the center. These can be pretty old, but they are difficult to date. The large copper disk looks like the knock out from an electrical box, but I have never seen a copper one before. It has HUBBARD W in a triangle as a company logo. There are lots of Hubbard companies out there so no idea what it actually is. A nice heavy piece of copper worth recycling at least.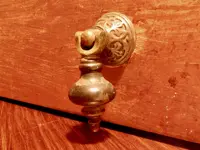 I took my weekly trip to the scout camp. This time I bounced around in a part of camp that is pretty well done, doing some spots I haven't covered yet. Not real promising areas, but I have to do them because you never know when the great find will pop up.
In 6 hours of swingin the CZ21 I found 138 coins with a face value of $15.32, 34 camp tent pegs, a fishing lure, a small swivel, a sinker, the adjustment tab from a neckerchief slide, a crusty whatsit, lots of melted aluminum and a bunch of tabs.
Only a piece of a neckerchief slide this time instead of the whole thing. The crusty whatsit looks like it might be a quarter if I can get the crud off. It is the right size and it has a reeded edge.
Another Big Bertha tent peg this trip. Not a great find, but I like finding them for some reason. I guess they are an "unusual type" so that makes them special.
Good money wise this trip with high quarter and dime counts, but none of the more interesting stuff this time. Maybe next time will be better.
I got a new permission for 2 county middle schools. I have to stay off some of the sports fields (very specifics as to which ones). I can detect around the outside of the fields and there is potential for some goodies. I have to detect on weekends and holidays, but I can do that. I went to the first one this week. It used to be a high school and opened in 1954.
In 5 hours I dug 184 coins with a face value of $15.62, an old crushed flashlight, a cheapie ring, a half dime (not the kind we like to find), a squashed penny, 2 wheaties, a few tabs, and a little bit of junk. Again good clad, but not,much else.
So one great hunt with silver and oldies, and a few hunts with lots of clad to pay for my gas. The old guy is still out there diggin up the metal and making like a crazed gopher. But this gopher fills in his holes and takes the trash with him. Thanks for looking, stay safe, good luck and may your coil lead you to good things.