Apr 20, 2018
1,630
7,709
🏆 Honorable Mentions:
Detector(s) used

Fisher CZ-21, Minelab Excalibur,Garret AT Pro,
Primary Interest:

All Treasure Hunting
I got back to campus the other day and had 3 hours to detect. A decent number of coins came out of the ground, but the area was heavier in trash than usual and most of the coins were pennies, 83 out of 118 so the face was only $6.13. In addition I found a bent and broken handle for an old safety razor, an old car key, both halves of a cheapy cutwork heart (found 5 feet apart), a crochet hook and a pendant.
The pendant is plated so it is not valuable, but it is inscribed with "Falcons 87" on one side and a name on the other. Out of curiosity I search the name and found an obituary for the man. He was a 1987 graduate of Frankfort High in West Virginia, they are the Falcons, and he was a graduate of the college where I found it. He probably lost the pendant while he was a student so it was lost at least 27 years ago or longer. I found names of parents and relatives in the obituary so I checked the local Maryland phone book and found numbers for his grandmother and an uncle. Other number would probably be in the West Virginia book, but I don't have one. He died in January 2018 so I was hoping the numbers would still be good.
I know the pendant is not valuable in the monetary sense but it may have sentimental value to the family since they lost him at the age of 48, so I made a call and grand mother gave me his mother's number. Mom was surprised by the call, but when I asked if she wanted the pendant she definitely wanted it. She mentioned that he passed away last year and her responses to our conversation told me she was very happy the pendant was finding its way home. The easiest way to get it to her is by mail so she gave me her address and I put it in an envelope and will mail it tomorrow. Another find returned!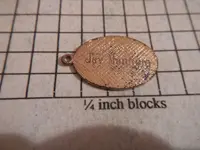 ​
Thanks for looking and may your coil lead you to good things.