Dec 14, 2017
1,593
3,484
🏆 Honorable Mentions:
Detector(s) used

Nokta Makro Simplex+, Garrett ACE 300, Carrot
Primary Interest:

Metal Detecting
My favorite field was harvested today! Last spring some of my best finds at the locations were a hard times token, a couple largies, and a navy button like today's (but not in as good condition), as well as a number of buttons and musketballs. Today was my first field hunt of the season and it didn't disappoint! I spent about two hours there and here's what I found: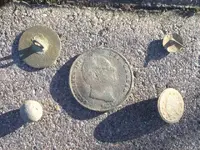 I know it's not a lot, but I'm satisfied.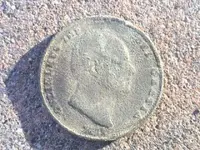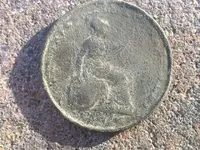 I initially thought it was a KGIII because of the right facing bust but I quickly realized my mistake. The date on it is 1831.
Here's the Navy button, I found an identical one last semester and the consensus here on TNet was that it was late 1820s. The backmark is pretty sharp and says RICH COLOR, I just realized my photo of it was fuzzy but I don't have enough light to take another one. I'll try and get another tomorrow.
I cut my finger in two places on an aluminum can and had to go back to the car to stop the bleeding, I decided to check out a few other sites after that. The first one no one answered the door but I got the go ahead at the second... unfortunately I must have made a mistake in my mapping because there wasn't even a nail to find. I think the LO felt sorry for me and said I could detect around the house (which dated from the 1870s I think), I stayed there for about an hour and a half but all I found was a pump organ reed and an axe head. Alright I guess but not as good as the first site! I gave the axe back to the owner as her family had been on the property since a little after 1810!
Good luck and HH! I'm sure you guys will be seeing more of my posts in the future as many of my permissions have just been harvested! I know it's only a matter of time before I get a Spanish or other old silver!