Apr 20, 2018
1,421
6,292
🏆 Honorable Mentions:
Detector(s) used

Fisher CZ-21, Minelab Excalibur,Garret AT Pro,
Primary Interest:

All Treasure Hunting
It's been a busy week with lots of digging, but not much special until today. I went back to the sports field where I found the George 2 and managed to find something I think is pretty neat. When I dug it I thought it was a mashed round ball, but when I got it home and cleaned it up it had writing on it. It has B & O R R on one side and CUMBERLAND on the other. It is a lead rail road seal from the B&O Railroad in Cumberland Maryland. No idea how old it is. It could be as old as the civil war, but it is definitely not new. Cumberland is about 4 miles from where this was found and the field is about 300 yards from an active railroad track. This is a new one for me and it made my day. I know it's not valuable but it is very interesting. FYI, Cumberland was know as the Queen City. It had a lot of industries and the C & O canal was here as well. It was a major transportation hub during the civil war and lots of federal troops were stationed there to protect the canal and railroad from the confederacy.
The total finds for my 5 hours with the CZ21 was 70 coins with a face value of $4.44, a makeup compact with no name on it, a GOMEZ knife, a large oval grommet, a small keyhole, a cheapie carabiner, a car wash token, the lead seal, a CHICOS earring, a large stainless spoon, tabs and slaw.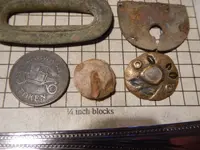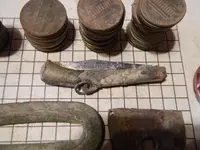 I went to the other middle school I have permission for and spent 5 hours with the CZ21 doing a survey hunt. Nothing great, but 127 coins with a face value of $7.82, an angel wing pendant, a skull pendant, a decoration from an old leather cap gun holster, another monopoly game tab, other tabs and junk.
Went back to my other middle school and started a grid search. 5 hours here yielded 140 coins with a face value of $11.19, 2 nicely chromed modern D rings, 2 toy cars, parts of a combination lock, a ball button, a parking token, a wheatie, part of an elephant pendant, tabs and junk.
The parking token is from Brownsville, Penn, good only in city lot meters. The ball button has a back mark that I believe is fairly new, but I can't find a date for it. WATERBURY CO'S INC. CONN. The wheatie is a 1953.
I spent 5 hours at the club where the civil war skirmish took place. I managed 32 coins with a face value of $3.58 (mostly from the picnic area in the back), a blank cartridge from a flag ceremony marked SL 54 (Saint Louis Arsenal 1954), an old pistol bullet (1880-@1930), a small round ball, an Anthony dollar coin, a key from an RV locker, tabs and junk.
The scout camp got it's weekly visit with 6 hours of swingin. 87 coins with a face value of $6.44, 2 old padlocks from the old farm, 2 dead knives, a better (but still cheap) carabiner, a clevis pin, a bolo tie end, some old bullets for the farm, a modern bullet, a live .22 round, a weird whatzit, a rope tensioner, fishing gear, lots of sinkers, tabs and junk.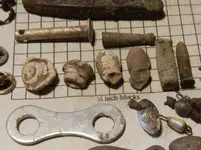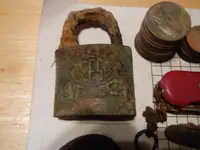 I dug a lot of holes and did good on gas money, a nice dollar coin, a couple of modern tokens, a cool railroad seal and a nice pile of trash. Not a great week and next week with family obligations I don't know if I will get out at all. Thanks for looking, stay safe, good luck and may your coil lead you to good things.