Gold Member

Found today in Culpeper County, VA. There is a lot of iron in the general area. (within 10 miles) Mostly as magnetite sands and some hematite. Nothing mineable. Not enough concentrations. Now 25-35 miles to the west they mine GOLD. But not here. Found on the top of a hill, no creek nearby although this ALMOST looks creek worn, but the surface is NOT smooth enough for that. Haven't completely washed it yet. It is slightly magnetic. Made the MD scream.
It was found 200+ miles south of the closest glacier morraine, or whatever that word is, so that is out. (The place the glacier dropped its rocks).
Not hot enough for the pinpointer however. Did a few rudimentary tests. First, it is not where it should be. Rounded rock, some MINOR pitting or corrosion to the exterior, no sharp edges. Top of a hill.
Slightly magnetic. No mines around.
It does have a crust of sorts to it, not deeply pitted like slag. Streak it black on unglazed porcelain. Was hard to get. Still encrusted with red dirt, but appears to have a crust on it.
Ground a window in the rock on the broken end 1200 grit, you can see a pattern (weak pattern) inside and bright steel colored specs. I only cut a small window in it.
Your thoughts?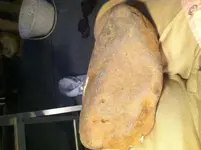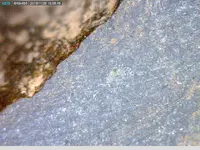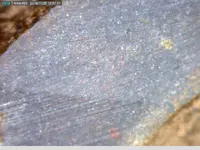 Last edited: