Found an old homesite.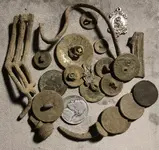 The oldest stuff is this bunch of flat buttons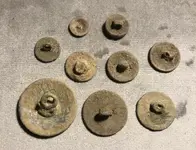 Modern stuff are 4 wheats and a 1941 Jefferson
1943 silver nickel
Random bits of brass
Best finds would be this 1830s US flat button that
Was turned into a two eye button. And a piece of
Silver, looks like a heraldic eagle ??
Military eagle ?