Apr 27, 2013
1,079
4,757
Primary Interest:

All Treasure Hunting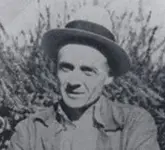 Forty one years ago this weekend George Brownie Holmes passed away at his home in Phoenix of heart failure.
Born in Phoenix on April 11, 1892 he was 88 years old. He died on his birthday. Brownie was a ranch hand most of his life, worked for the Arizona Fish and Game Department for a decade as a packer and trapper. He was a veteran of WWI, the great war, the war to end all war.
Brownie was married to Thelma Neff - Harwick. He had one daughter who died young.
Brownie Holmes had many friends at his passing and his memorial was attended by hundreds. His wish was to be cremated and his ashes taken into the Superstition Mountains. That wish was fulfilled by a close friend. He now remains a part of those mountains he so loved.