Gold Member

Jun 16, 2014
11,784
17,632
🥇 Banner finds
Detector(s) used

F75 LTD, 1280X Aquanaut, & an F2 (loaner)
Primary Interest:

Metal Detecting
I left out around 10 AM, the plan was to door knock. I had the names of the owners for the four properties I had listed. First knock was a YES.

The owner just wanted to see my finds. My 2nd plug was 2 to 3 minutes into the hunt and produced the Buffalo.

This place is virgin, but with much soil moved over the century. About 1.5 hours in I dug the Rosie with 4 wheats in the same plug.

Moments later the next plug uncovered the Merc.

Wheats were everywhere. I ended up digging 20 of them (1916 - 57D). Most of the wheats are from the 50s. Four hours in I got a big high tone, I thought to myself "here's that bucket list barber" and sure enough about 6" down I reached in and pulled the silver half out, and by god it is a Barber.

How cool is that.

I am only 40% done on the 1st grid. I know where I'll be tomorrow. Maybe an SLQ will show up?

Notable Finds
All Finds (less trash)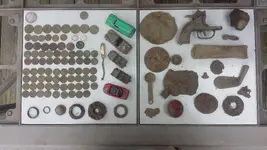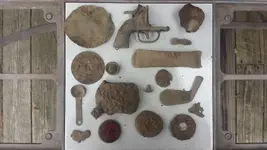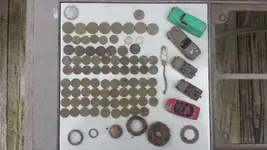 As always, I hope ya'll got out and swung the coil

today.
GL & HH