Gold Member

Jun 12, 2006
17,749
8,655
🥇 Banner finds
🏆 Honorable Mentions:
Detector(s) used

Fisher F75, Whites DualField PI, Fisher 1266-X and Tesoro Silver uMax
Primary Interest:

All Treasure Hunting
Hello All,
Now that all the finds have been catalogued, the electrolysis tank is empty, and all the relics preserved, it's time to revisit what Shangalang, DiggerGirl (my wife), and I were able to recover in 2020! If I didn't have this hobby during the pandemic I think I'd have gone insane by now!! This year saw some OUTSTANDING recoveries made by all three of us--but it was a particularly good year for my buddy Shangalang who dug his first plate (US belt plate), his first Pelican button, and one of the most valuable military buttons we've ever dug: a Texas Republic Navy button!!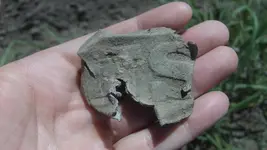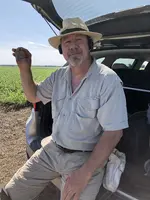 Shangalang also killed it with the old, cut silvers this year, finding a half-cut half real ("quarter real" in value) as our ONE HUNDREDTH SPANISH SILVER dug down here in Louisiana! He also got his first ever 3cent silver which was likewise cut into a third (guess it's a one cent silver now!). And just to prove that he was the KING of strange coinage, he also dug a William IV Farthing (1830-1837) which was a really cool oddball find!
In terms of timeline, early January 2020 saw me hitting an old site for some decent goodies and a Barber Quarter...but soon I stumbled onto a vast new site that had it all: military relics, old silvers, and colonial items. Within a week of Shangalang's first plate, I had a piece of an eagle breastplate myself! My wife and I pushed through to break our early silvers record with an astounding 6 silver day.
Then I got into a 50 foot square area in one of our other spots that was a small trash pit and dug a silver colonial button, french centimes, and a 1700s religious medallion and more. Around October my wife and I then noticed a TINY bit of oyster shell in a field we had permission for and ended up finding three sites--one had military buttons and holed silvers, the second one was a work area that held a beautiful 3c silver trime. (as I said in a WE Treasures article several years ago, once you dig the first one, more will follow swiftly! I'd never dug a 3cent piece of any sort until last year when I dug a 3c nickel. Then this year I dug my first trime in the summer, and immediately Shangalang dug his first and I dug my second one! Below is the lone coin from the iron-infested work site: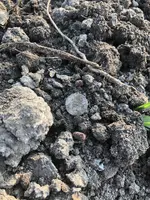 The third site was loaded with seated silver coins and very little else in the way of buttons or other items! Late in the year I made some December finds that just had me in awe: I found the location of an antebellum sugar mill and dug through the iron there to find a lone NY cuff button and flop out a BIG 1858-O Seated Half Dollar!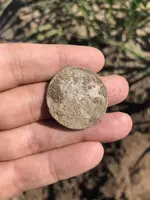 Also got my first ever cast "c" confederate cavalry button, made by T. Miller in Houston,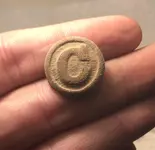 and at the very end of December (believe it or not!!) a gold nugget dug in a plantation site here, which had to have come from someone's "poke" brought here during the gold rush into the port of New Orleans.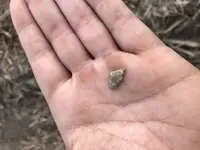 We blew away our previous record of old silvers dug in a year, which had stood at 44 silvers (which we'd tied several times but never broken...). This year we got 53 old silver coins, primarily seated with some spanish silver in there too

We also started a new tecnique which we call "marble harvest" which involves eyeballing trashy 1880-1960 sites that we normally wouldn't dig ourselves to death in, taking away hundreds upon hundreds of marbles, old bottles, tokens, and other items that had washed out of the ground after the plow. Our record between my wife and I was 85 marbles in one day! Before we get to the rest of the finds photos, here's how our signature line looked at the end of 2020:
2020 CaneField Bandits Totals:
Republic of Texas Navy Cuff Button
US Civil War Belt Plate
Eagle Breastplate
Cast C Cavalry button ("T. Miller Houston")
Three Louisiana Pelican Cuff Buttons
Louisiana Pelican Coat Button
3 gram gold nugget from a plantation site
Shield from an 1820-30 Artillery Shako Cap Badge
Corps of Artillerists and Engineers Button 1798-1802
Four CW eagle coat buttons
Two CW eagle cuff buttons
French Navy Equipages de Ligne button (1 piece, 1830-40s)
Two New York Staff Officer Cuff Buttons
Colonial silver sleeve link/button made from a half real
Monogrammed Silver Love Token
TWO M1858 Remington Revolver Trigger Guards
bone die eyeballed
Silver spoon made by Alexander McGrew 1805-1836
Coin Silver mid-1800s "Fede Ring"
1820s-30s silver eyeglasses frame fragment
End of a gold crucifix or mechanical pencil
Tip of a silver mechanical pencil
William IV farthing (1830-1837)
dateless half real
half-cut half real ("quarter real")
1781 and 1807 half reales
1840 quarter franc French silver
1850 20 centimes French silver
1851-O, 1852 three cent silver and a dateless 1/4 of a three cent silver
Two 1839-O, 1840, 1842, 1848-O, 1851, 1851-O, 1852-O, two 1853's, 1856, 1856-O, 1857, Two 1857-O's, 1858 (holed), three 1858-O, an 1859-O and a dateless Seated Half Dime
1839, 1854-O, 1857, 1874, 1891-O, one dateless Seated Liberty Dime, and one dateless half-cut Seated Liberty Dime
1896-O Barber Dime
1953-D Roosie
1877-CC and 1875 Seated Quarters
1858-O Seated Half Dollar
1892-O, 1899 and 1906-O Barber Quarters
1940 Washington Quarter
1942-P, three 1943-S and two 1943-P War Nickels
shotgun breechblock
iron prisoner shackles
picket pin
Spurs
Plantation tokens
Minieballs, Beefaloes, V and Shield Nickels, and some GawGag
Please enjoy the photos of the finds, the display cases, and the descriptions of the relics and coins:
First off, finds from the new site we dug that had civil war, colonial and more. The cast c button, early artillery button c.1798, silver fragments including the frames of silver spectacles made in France in the 1830s: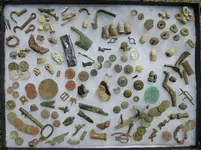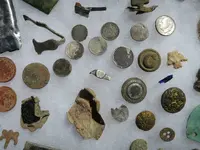 Field where I dug the seated half dollar, including a handful of early silver and military buttons!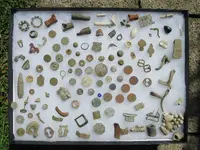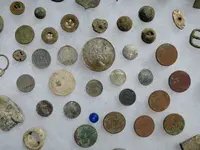 The new plantation property my wife and I discovered, comprising three, related sites where we dug everything from cw buttons from both sides, to a French Marines button from the 1840s, my BEAUTIFUL New Orleans minted 3c silver, and lots of holed silvers and tokens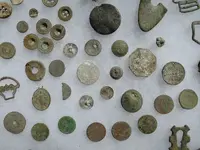 Also got a set of matching keyhole covers from the same smokehouse lock manufacturer, and one of TWO M1858 Remington Revolver trigger guards I got this year!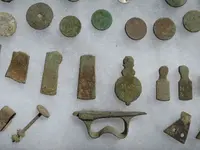 A sweet little site I found and hunted in the summer when the cane was tall and I was getting eaten alive by mosquitos and getting paper cuts on my face and arms from the sugarcane: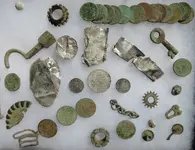 A thin spot my wife and I discovered in a rotten soybean field that had a barber quarter, silver mid 1800s fede ring (found two of those this year!), and a lone Louisiana Pelican cuff:
A late 1800s trash pit where the real outstanding finds were a silver gecko from the 1920s and an early 1800s Ale
xander M
cgrew silver spoon (1805-1836, Cincinnati Ohio):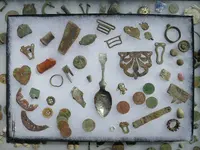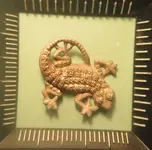 The site where I started the year, finishing the grid from 2019: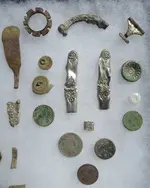 My wife's outstanding display case, with the best eagle button for the year for us, and an outstanding pelican button, seated, spanish, and the bottom of a gold crucifix!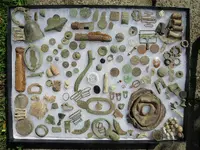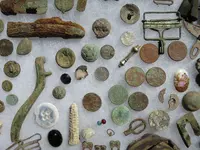 More Photos in the First Reply Below!!!
Last edited: