Feb 29, 2016
11
26
Primary Interest:

All Treasure Hunting
Here are the first photos of some of the "arrowheads" found by my grandfather 70 - 80 years ago. I've grouped them by general appearance, but since I am a novice they may not be of the same type! The background is a Kodak 18% grey card. Sorry, but I forgot to put a ruler in the shot for size reference, so I'll mention the size of the largest point in each photo.
The longest on on the left is 2.75 inches long. These are as thick as they are wide. The cross section would be almost round. So far I haven't found anything like these on any artifact identification web pages.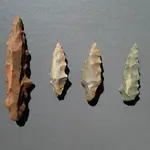 In the next photo the longest point is 3.25 inches. The one on the bottom left is unusual in that one side is triangular and the bottom is flat. It is 3/8" thick. The closest ID I can find is "Savannah River", though I'm most likely wrong!
Savannah River Projectile Point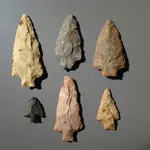 I'm pretty sure this last group is Guilford. The one on the top right is 2.75 inches.
There are quite a few more in the collection. I'll take more pics in the days to come