Oct 25, 2020
1,735
4,399
🥇 Banner finds
Detector(s) used

Garrett ACE 400, Nokta Simplex+, Nokta Legend
Primary Interest:

All Treasure Hunting
A friend of mine called up and wanted to get out detecting in the desert somewhere so I gathered up my stuff and off we went with no particular destination in mind. I remembered a spot from when I was arrowhead hunting many years ago that had rusty stuff showing here and there, so that's where we headed.
Things looked a lot different than I remembered and wasn't sure we were in the right spot, but within 5 minutes I spotted this little obsidian point. Yep, this is the place!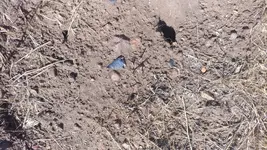 A little calf started following my friend around almost immediately, and continued to follow him for quite some time. Kinda funny!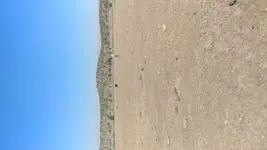 We ended up with a nice pile of rusty stuff, but not a single coin. Oh well, it was a nice change of scenery.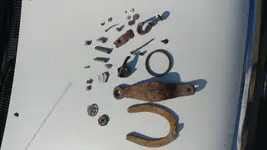 The mother of pearl button is a new one on me, never have seen that style before. And the hemispherical ceramic piece is a mystery also. It isn't broken and has metal in it.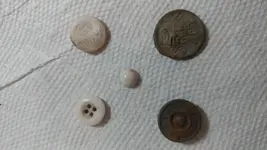 This piece is a mystery also.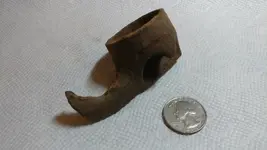 The cartridges are a 30 W.C.F. and two of 44 W.C.F.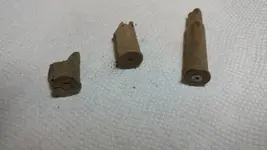 I spotted this ceramic piece with a hallmark to hopefully get a timeframe of this spot.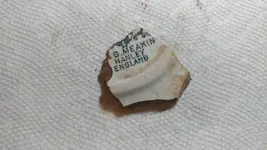 It looks like somebody camped here in the 50's or 60's? These were all in a bunch.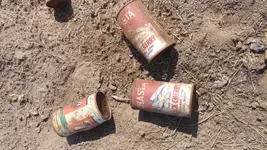 Last edited: