Today i took a trip to my standing permission and once again walked away with a couple keepers.
Considering i have pounded this permission hard, my plan was simple...dig all signals that ring up mid tone and higher.
So, when i dug my first hole, I was not disappointed to see a large stainless flat washer pop out of the hole.
Two hours later i picked up a V nickel and called it quits.
Back at the car i dumped my finds pouch to separate my trash from coins and the washer caught my eye.
Go figure...that smooth washer turned out to be a well worn Barber HALF! I guess i need to be a bit more observant in the future!
Here is a picture of all my finds for the day.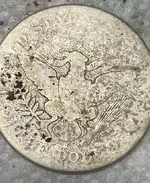 Turns out the Half dollar is an 1896-S. Funny thing is...this is my second Barber half and it is the same year as my first.
My first being an 1896-O in way better condition found 38 years ago!
Anyhow...the V nickel turned out to be a 1911
Here are the two coins together.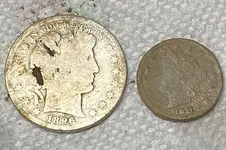 HH everyone and remember...Dig all those crappy signals or risk loosing the good stuff!
Last edited: