Got a chance between rain storms to detect in my homestead field. Nothing grand but a pretty cool Bass pin, a small key, a nickel silver plated knife, a buckle and an unknown.
The one I found What its supposed to look like.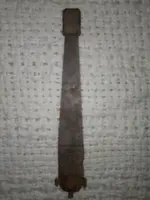 The butter knife says Rogers Nickel Silver.
My unknown, well your guess is as good as mine. Anyone know what this is?
I thought it was a spark plug gapper at first, it looks like it was attached too several others
and the cup end looks like a small like 1/4 teaspoon measure. No markings on this one.
Thanks for looking and good hunting!