Apr 24, 2013
4,388
9,374
🥇 Banner finds
Detector(s) used

AT Pro, XP Deus
Primary Interest:

Metal Detecting
Greetings and Happy October T-Net Nation! I was able to get out into some nearby woods on Monday for a couple of hours of detecting. While walking down a very well traveled path I hit on a decent high-ish tone ( VDI=84). About two inches down out popped a very tiny, very bent silver coin.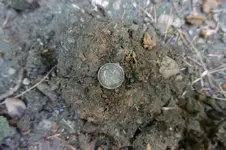 Turned out to be an 1847 seated half dime. It's a little on the banged up/ mangled side, but I was super happy to find it. This is only the third half dime I have come across in the past 10 years of detecting. I'm guessing that the lower than normal VDI was due to the size, and the bent-ness ( is that a word) of the coin. For me, a silver dime on the Deus 2 is usually a dead on "92".
Fifty yards down the same trail I got another nice signal that proved to be an 1837 Canadian " Habitant" bank token. This coin was also bent up, and in rough shape. But after some research I was able to get a positive ID. This token is a first for me.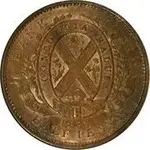 It is always a bit of a shock when you can uncover really old coins on a well used trail like this one. It really pays to slow your swing way down in this situation. Thanks for looking!