Gold Member

Jun 12, 2006
17,883
9,035
🥇 Banner finds
🏆 Honorable Mentions:
Detector(s) used

Fisher F75, Whites DualField PI, Fisher 1266-X and Tesoro Silver uMax
Primary Interest:

All Treasure Hunting
UPDATE IN REPLY #102! It appears that the example of the PB countermark on my coin was UNIQUE as of 2003--hoping for more information on whether any have been recovered since!
Hello All,
I am still shaking from the find I just made, even though some hours have passed. I had metal detecting dreams last night. Was surprised I didn't wake to find a dig hole in my mattress!

Went out with Diggergirl to a site where she wanted to dig an old bottle trash pit. I got that excavation process started with her, and left her there happily recovering bottles.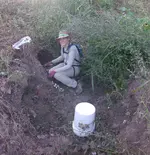 But the cane fields were calling me, and I just couldn't wait to get the F75 fired up and get in there. I didn't have high hopes, because the signs were turn-of-the-century, which is usually a bust down here in South Louisiana, due to the economic destruction of the civil war and Reconstruction period, followed immediately by the collapse of the depression. Plus, I really prefer CW-era and earlier finds. Just more history there, and more interest to me.
At any rate, I got going and to my surprise dug a couple Civil War bullets right off (dopped burnside and a .69 cal round ball). Picked up an 1890 IH right on top of the ground that beeped at me as I walked by. But I wasn't prepared for what I dug next! It was a quarter of an 8Reales. I had wanted a Big 8 forever, and had seen Hill Billy dig FOUR of them in Old Kentucky, and my digging buddy down here dug one last year! While I was really happy for them, I wanted one for the collection.
Well...it gets better! The cut coin has the coveted Planter's Bank New Orleans counterstamp! One of these was featured in Western & Eastern Treasures Magazine Best Finds issue this year, and they normally sell for $4,000-$6,000.00! An especially nice condition counterstamp of the same type recently sold for over $9,000:
http://legacy.stacks.com/Lot/ItemDetail/4183
Enjoy the video and photos. I have a photo below of the Western & Eastern write-up in the Best Finds issue, but information on this rare counterstamp is readily available online as well.
Parts of three solid silver spoons: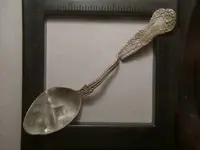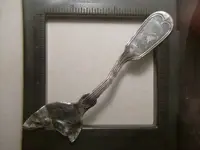 1890 IH was a nice surprise:
Nice 1913 Barber Dime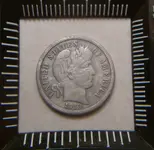 And the cut 8Reales: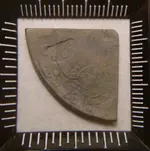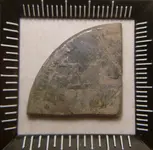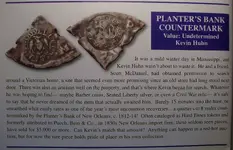 The "PB" stamp is different on the one I dug than any others I've seen (an oval on mine vs a circle with chain border on the others). Wonder if that's a new variety of the counterstamp?
All the digs, not including the brass crappe (recycling!) and bucket of scrap iron.

It's nice to finally hit a BIG find. I knew one of us would dig one sooner or later. Even though I still want to dig a gold coin, IMO this is better than a gold coin, not only in terms of value, but also in history.
Best Wishes,
Buck
Last edited: