Apr 20, 2018
1,493
6,716
🏆 Honorable Mentions:
Detector(s) used

Fisher CZ-21, Minelab Excalibur,Garret AT Pro,
Primary Interest:

All Treasure Hunting
I went to a playground that was totally reworked and landscaped about 8 years ago. I had some good luck in the past, but the earth moving buried some of the good stuff and made some areas very hard to dig. They use the fields for soccer and baseball and there is a basketball court so always the possibility of new losses.
I spent 4.5 hours in the frosty air with the CZ21 hoping for a goodie or 2. I managed to find 42 coins with a face value of $3.45, 2 Catholic medals, a large mushroomed bullet, 2 game tabs, a key with a cheapy chain, a pigeon band, a crock jibbit, a rabies vaccine tag, a modern bullet, tabs and can slaw.
The winner of the day is the sterling Catholic Miraculous Medal. A nice surprise from 9 inches down. The back originally had a maker name or location in front of sterling but it was overstamped with HAYWARD which is a silver jewelry maker. Why it was stamped is a mystery. Possibly made by them using an older die before they made a new die? The other Catholic medal is badly eaten brass with Jesus on one side and the Madonna and child on the other. The 2 medals were found in separate areas of the field.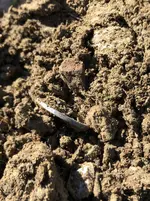 The interesting items from this hunt are 2 Pepsi game tabs with 904 on the top and D, N underneath. The modern bullet is nothing special, but it does show teeth marks from a mouse. I have found several bullets chewed by mice. It must smell good to them. Also another pigeon band from the United Pigeon Fanciers of Cumberland dated 1957. I have found several others on this field mostly from the 50s.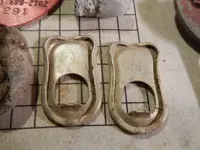 Another interesting find is the mushroomed bullet. It is a large heavy one and looks like it is probably a .52 caliber sharps bullet, but I'm not positive. In this condition it is hard to tell, but there were a lot of troops here during the civil war and I have found single bullets a lot of different places in the area.
I went to an old school ball field I haven't detected in almost 6 years. It is used for softball and soccer these days by the local community and the school was bought and is used for a business. The field is owned by the county so I'm good to go. I was hoping for a little silver and some civil war bullets. This field is about a quarter miles from a civil war camp I have detected and it boarders the C&O Canal property. From what I have found in the past I believe some troops may have been camped here to defend the canal from the confederates. I have covered the entire field in the past and found a decent amount of silver and about 25 civil war bullets. But no one ever gets it all and in 6 years a lot of new stuff can be lost.
I spent 5.5 hours swingin the CZ21 low and slow searching for those deep targets I missed last time. I found 82 coins (most recent losses) with a face value of $4.80, a coach's whistle, 2 different Pepsi game tabs, an aluminum heart, a merc dime, 4 bullets, some tabs and a little can slaw and a few nails.
When you are listening for the faint signals you tend to dig anything that sounds the least bit good. The results 10 or 11 nails and 4 bullets. The bullets are 2 .36 caliber navy revolver bullets (T & T 7A that would fit my family heirloom Navy Colt), a mangled round ball and a little round ball or drop of camp lead (it could be a .30 caliber ball from a ball and buck).
The merc is a 1937 D in decent shape. The game tabs are from 2 different Pepsi games years apart. The Q tab matches the D and N tabs I found the day before and the T I found at the middle school last week. I'm raking in the tabs, yahoo LOL. The whistle looks like it was lost when the school was open years ago. A nice big ACME THUNDERER Made in England.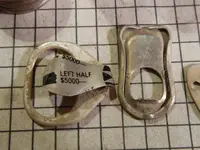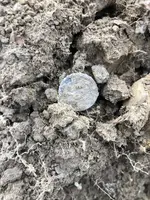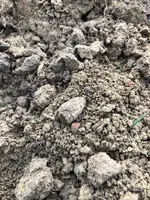 I went to the oldest park in the area. People have been detecting this park for over 40 years and it is located beside the site of one of the civil war camps. I have had some goodies from here in the past, but not this time. I spent 5 hours with the CZ21 hitting some of the high spots and managed to find 100 coins (74 pennies) with a face value of $3.74, a toy plane, a piece of junky bracelet, a 2013 rabies tag, a sinker, a cheapie decoration, a group of number tags, tabs and can slaw.
The number tags were all in the same hole about 12 inches deep. Most are aluminum and the acid soil was not kind to them. A few are stainless steel. They were beside a sidewalk that surrounds the swimming pool and I believe they are claim tags for baskets in the bathhouse. They were probably discarded when they remodeled the bathhouse long ago.
K
So 2 real nice hunts and an ok one. A good week before Christmas visits and out of town guests keep us busy for a few days. Still decent weather for December. The last hunt was just above freezing with strong winds, but still better than normal for this time of year. Merry Christmas to all. May your holiday be enjoyable and safe. Thanks for looking, stay safe, good luck and may your coil lead you to good things.