Jun 5, 2005
44
46
Detector(s) used

Tecknetics Eurotek Pro
Primary Interest:

Metal Detecting
My Eurotek Pro works great when discriminating, but has a firmware bug in pinpoint mode. It constantly kicks out of pinpoint mode into discriminate mode on almost every target. Some have complained its a bad membrane switch, but I have proven that is not the case. The problem is lack of debounce firmware for the pinpoint button. One can deal with momentary key bounce in firmware or hardware. I added hardware fix and the problem was cured. The fix is to add a .47uf capacitor from the pinpoint switch to ground. This eliminates microsecond make and break contacts being seen by the computer chip causing it to jump out of pinpoint mode.
Below is a pic shows two pins to connect .47uf capacitor indicated by voltmeter leads. The red lead is on the pinpoint signal on second pin. The black lead is on the ground signal on the fifth pin. Add capacitor underneath pushing capacitor leads up through holes from below, and soldering into place. If you use an electrolytic capacitor make sure its lead polarity is correct.
Disassembly is easy by removing three screws and slowly removing back panel. Take care you do not pull on flat ribbon cable attaching the two halfs. Remove the battery and one screw is under that, while other two screws are on case back.
Be aware this will void your warranty. I decided to try fixing this instead of sending it back as I am sure all units have this problem and factory could not repair an engineering design flaw. I've put four hours detecting use on machine since adding fix, and only seen pinpoint problem occur once (probably operator error not holding button down firmly). Its a huge improvement and worth it, IMO.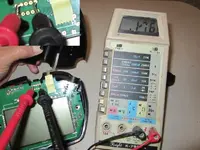 Next mission, correct the pinpoint fixed full volume firmware bug/feature.
I shouldn't have to fix engineering problems on a brand new machine that's been in production for three years.
I should have bought a Whites. Never had a single firmware bug/feature problem with half a dozen Whites models in 20 years.
Last edited: