Jun 9, 2006
1,857
219
Detector(s) used

ace 250
Primary Interest:

All Treasure Hunting
Hey gang,
I've decided to share this little tidbit. To some of us who have searched
deep
into the Pegleg Smith story this is not new..But it sure could start some conversation. According to Diane Lindsay in Anza Borrego A-Z pgs 160-162 Juan ( Juanito ) Razon was known as Figtree John. His names means John or Johnny White ( according to Benjamin Davis Wilson because he acted so much like a white man ). He was from the Wantcinakik Tamiansitcem of the Cahuilla Indians and he basically settled on the north end of the Salton Sea. It was here that John would be seen wearing his trademark duds. A tophat, a blue Military jacket and on special occasions, a cane.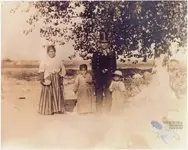 John would say that he was born on Coyote Mt and most likely was from the Rockhouse Canyon clan. He roamed the Santa Rosa's and because of this there were many stories written about him Some say that he had a mine in the S Rosa's. One such story comes from Peter Beidler ( John's biographer ) about a published account from W A Linkletter. Linkletter records a 1912 conversation with H E Marshall ( nephew of James Marshall-gold discoverer ), Marshall said that before Pegleg died He told the following in which Marshall dutifully recorded:
" Pegleg said he had a Indian by the name Juanito Razon, who was afterward the chief of the Agua Dulce ( sweet water ) Tuba tribe of Indians and was known as Figtree John guarding his mine. He was getting old and just before he left he gave me a will to his old Spanish Land Grant on which he said his mine was located. He gave me a map showing the location of the mine and also gave me 1/2 a talisman which he said fit the other half that Figtree John had. By this talisman and a Indian salutation, which Pegleg told me to greet Figtree John with when I saw him, it was agreed between them that the Indian would know that I had become the owner of the land grant and mine. Pegleg said the last time he and Figtree John were at the mine, after taking out about 200lbs of rich ore, they had covered up the ledge ( placer ? ) so no one could find it easily. Figtree John was the only living person that has been to the mine so far as we know. He was sworn by Pegleg never to reveal the location of the mine. Figtree John guarded the Lost Pegleg mine for years.... "
I am a
firm
believer that there was more than 1 Pegleg. The original Thomas L Smith died in San Francisco in 1866. I don't know for sure this is the Pegleg they are referring to. As to where it might be, I think one has to find out where Agua Dulce spring was first.. I have also read that the trip John took was a 4 day affair ( 2 in and 2 back ). In the book California Desert Trails by J Smeaton Chase ( 1919 ) he recalls John showing him several documents. One of these was from Chief Cabazon giving full tittle to John as captain of the Agua Dulce Tuba village and for him to exercises the same authority as Chief Cabazon. He also had " ragged maps, apparently rough drafts of surveyors. These, he held, made him owner of all the territory shown., running from the last low ridge of the Santa Rosa's ( the ridge was named Hiawat on the map, evidently a word, though John could not translate it into Spanish ) as far as Conejo Prieto or Black Rabbit Peak. "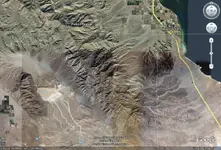 So Possibly somewhere in these hills there is enough gold to last a lifetime... I guess it's time to get crackin'
Enjoy
PLL