Finally Got Out....2 week's of Jonezen....
Not much to bring home but after 2 week's of snow,ice,and 20 hr.'s overtime this week this roundball was a welcome sight.I also found this other piece of lead....not sure if it's carved or not,kinda funny lookin'?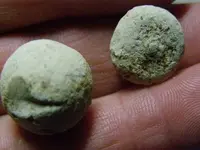 A pic of my base camp and an old Oak that BuckleBoy would be proud of.....roundball,I'll take it!!!

Still Jonezen!!!