What a brutal winter, thank god it's over. I haven't been on Tnet much at all, been busy, and I apologize for that. I'll have to go back and check out all the amazing posts I have missed.
Been out a couple times, the ground is still frozen solid in spots and the snow is still pretty deep in places as well. Been melting for two weeks now, hopefully it disappears soon. Blech.
Tried a couple different spots and found a variety of things from 1890's and up. I was actually really pleased with the musket ball, haven't found one for a couple years.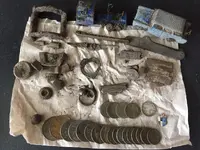 One of the wheat pennies was 8 inches deep, and the silver dime was nearly 8 as well. Made me feel good to find some relatively deep coins after not detecting for 5 months. Also found this tiny little silver thing, has a coat of arms and says "Kulmbach" on it. ".
Two days ago me and my digging bud did some scouting. We didn't find much, but at one old farmyard I found this button. "Glasgow & South Western Railway" was in operation in Scotland from 1850-1923. Pretty cool to find it all the way out here in Canada.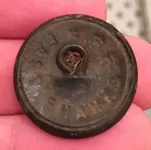 I hope everybody's having a good 2017!