Apr 9, 2012
11,420
32,668
🥇 Banner finds
🏆 Honorable Mentions:
Detector(s) used

Garrett AT-MAX
Garrett AT-PRO,
Garrett Groundhog,
Pro-Pointer,

Jack Hammer!
Primary Interest:

All Treasure Hunting
A bit of a dreary day, kinda wet. But, I get to walk so infrequently these days, I'll take it!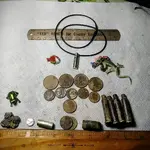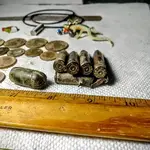 Appears that somebody's been shooting on this sports field.

Afraid I don't know from ammo.

That "cannonball" on the left is weird! What gun shot that?! Or would have??

....and a lil something for the kids to fight over.

Thanks for peeking!