Dec 29, 2014
1,352
1,547
🏆 Honorable Mentions:
Detector(s) used

AT Pro and a Garrett Carrot
Excalibur II
Primary Interest:

Other
Greetings Tnetters,
I haven't posted in quite a while because I haven't been hunting much. Life was in the way but much has changed and I find myself in Nicaragua on a beach that apparently has never seen a metal detector.
I'm down here with my Garrett AT Pro and my Excalibur ll. I also brought my Garrett Carrot but it fritzed out the first time it hit the water. I'm hoping it's the Duracell battery issue and not a bigger problem.
The gold trinket is a Taurus Zodiac pendant. Unfortunately, it's gold plated. I believe the core is copper which explains the mixed signal. Still, it sounded nice. As I bent down on the rocky shore to begin looking for it I saw it wedged standing on it's edge. I didn't get an in situ photo as a young Nicaraguan man has taken to following me around as I search for "tesoro."
It was wedged pretty good so I did the unthinkable. I pulled out my leatherman, gripped it and pulled. Came out after a few seconds. I saw the golden shimmer and quickly pocketed it so as not to create a stir. I later realized it was plated. But is has gold so I'm calling it my first beach gold. I know there's more out there.
So far the oldest (discernible) coin I've found is a 1939 Ten Centavos.
Most of the coins I've found have been from the late 1930s up to 1980. Surprisingly they've held up pretty well.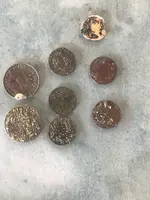 And of course there's trash.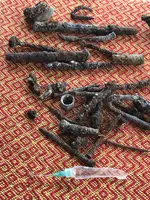 And lots, and lots, and lots of iron. I mean it's EVERYWHERE!
Getting detectors through customs was expensive. I had to pay $326 American in Nicaraguan Cordobas to get my detectors back from the customs agent. Seems it's a common practice for them to seize electronic gadgets and hold them hostage. The agents then go online for a valuation and the unlucky vacationer must pay on the spot to retrieve said "retained" goods. Payment must be in the national currency. No other currency is accepted at the customs office. No Cordobas, too bad. Oh, you can go next door to the money changer and convert some of your $$ to ours. The exchange rate was less than favorable.
Everything pictured found using the AT Pro on exposed rock shore.