Apr 20, 2018
1,577
7,349
🏆 Honorable Mentions:
Detector(s) used

Fisher CZ-21, Minelab Excalibur,Garret AT Pro,
Primary Interest:

All Treasure Hunting
Visiting family in Florida I got 5 mornings to take the CZ21 for a walk on the beach. No frozen ground, no snow, not much wind and lots of sunshine PRAISE THE LORD! My wife's brother lives on the beach in Cape Canaveral and it is huge. Miles and miles of beach that is several hundred feet from the dunes to the water so a massive area to try and cover so you can grid small sections and try and clean up or wander around hoping for the best. I did a little of both, gridding sections that looked like they had a lot of use and wandering from promising spot to promising spot. The beach was much quieter than last time. Signals were few and far between, there weren't even many bottle caps. I did see 2 other detectorists one morning and 3 others on another occasion. None of them stayed long.
In 20 hours of swingin the CZ21 I managed to find 186 coins with a face value of $12.47, sunglasses, a toy car, a spoon and fork, a pirate bottle opener, tweezers, an old key fob, sinkers, a socket, a tiny emblem, a carabiner, a key, 3 rings, 2 earrings, a junky pendant, foil bits, bottle caps, a couple of aluminum cans, tent pegs (for the scouts) and miscellaneous junk.
One of the rings is silver with a nice little amethyst. It looks very much like the one I found at the civil war bullet school about a month ago. One of the other rings is a plated kiddy ring and the other is a nice looking fashion ring with pink stones. Both earrings are silver, a medium thin hoop and a fancy stud with a pearl and tiny czs.
After we got home we went out to eat and when I got out of the car I looked down and found this little silver charm. It has a the monogram for M. E. M. and is dated on the back 3-22-2002. It is silver so I'll take it. Treasure is where you find it you just have to keep your eyes open and be at the right place at the right time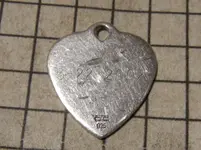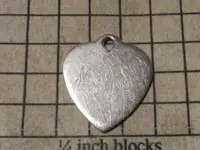 This trip was not as productive as past trips, with fewer coins and sinkers, but the rings were nicer this time so all is good. At least I got away from the cold. I just got home and it was 14 this morning and the high will be 40. Maybe I should have stayed in Florida a little longer.
Thanks for looking, stay safe, good luck and may your coil lead you to good things.