Sep 1, 2005
202
82
Primary Interest:

Shipwrecks
Gentlemen,
Today I found a cache of 5 Silver Ingots weighing a total of 5.5 lbs! It was less than a foot deep.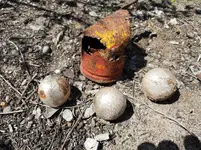 1. 0.85 lbs. 1.750 inches diameter​
2. 1.25 lbs. 1.850 inches diameter​
3. 1 lb. 1.755 inches diameter​
4. 0.90 lbs. 1.70 inches diameter​
5. 1.30 lbs. 1.92 inches diameter​
Total Combined Weight of 5.5 lbs.​
Has anyone ever seen Silver ingots like this? I wanted to confirm if they are Silver but due to the COVID-19 all the pawn shops seem to be closed. All I know is that they are very heavy size. Non-metalic (magnet doesn't stick). Possibly even PLATINUM?? LOL.. wishful thinking.
Can anyone help me identify this rusty can they were buried in?
Thanks in advance.
TW