Apr 20, 2018
1,669
7,994
🏆 Honorable Mentions:
Detector(s) used

Fisher CZ-21, Minelab Equinix 800, ,Garret AT Pro,
Primary Interest:

All Treasure Hunting
DAY 1
I went to one of the parks in town to check out one of the ballfields I did this ballfield about 10 years ago so I thought it was about time to give it another go and see if anything new had been lost and I gave it a quick check. I didn't grid carefully. I also did a quick check of some areas outside the fence I have not done carefully before.
In 4 hours of swingin the CZ21 I found 49 coins with a face value of $5.48, a key, a bent medal, a .45 caliber cartridge, a brass key tag ring, 4 tabs, can slaw and a bunch of aluminum fence tie wire.
The medal was a mystery. It is shaped like a fob or medal, but has no hole in it. It is very crusty and it looks like the hole part may have broken off. It has a bird on it and the letters F.O.O. Below the bird is a branch that is crusted over pretty well but it looks like it says L - F E. Every time I searched the initials it came up with page after page of Foo fighters and people who have the last name Foo. No organizations with those initials. My daughter helped with the search and we found the Fraternal Order Orioles. I found some similar birds on medals and LIFE on a branch or ribbon under the bird. I can't find one exactly like mine, but it looks like an older one. The Fraternal Order Orioles is a social organization that was organized in August 1910. It was previously known as the American Order of Owls until the name was changed. The organization currently consists of about 54 local Nests and affiliated Auxiliaries located in 9 States in the eastern United States. At one point in the 1920s it had 143,000 members in 208 Nests. Definitely a different find and kind of cool I think. Too bad I can't find an exact match, but with over 200 nests the possibilities of medals made for different reasons over the years it is not surprising.
DAY 2
I went back to the Civil War bullet school to do a little more detecting I've walked over most of the ground, and I've gridded a good part of the school grounds. So from here on out there may not be a whole lot left to find. The total coins may be smaller and the trash should be less but there should be an occasional goodie making it worth the trip. Today I got lucky and found a goodie.
In 4.5 hours of swingin the CZ21 I found 30 coins with a face value of $1.18, an older style snap, a Civil War bullet, a cheapie earring, a really crusty wheatie, a monopoly game pull off game tab, a light bulb hat pin, a compact, a few tabs, and the usual assortment of junk.
The snap looks old. No back marks and with a little checking I believe the N&W stands for Norfolk and Western Railroad probably from the 50s when snaps became more popular. The bullet is a .58 caliber Williams type III that has some damage from being moved around in the ground during construction of the school. The earring is a cheapie that has been damaged as well. (It was on the edge of a parking lot)
DAY 3
I got back to the scout camp and spent 5.5 hours swingin the CZ21. I was planning on doing more, but 40 minutes of pouring rain complete with thunder, lightning and hail messed up my plans and I had to get under cover until it passed.
I did better than expected. After 9 years of hitting the camp hard things are slowing down and the camp now uses a gift card system as well as cash so fewer scouts are actually carrying money to loose.
I did find 120 coins with a face value of $9.31, 89 camp tent pegs, 2 dead pocket knives, a mess kit knife and a stainless fork, the brass end off a scout belt, a Chuckie Cheese token, a Canadian penny, 2 rope tensioners, fishing sinkers, a clevise pin, the lid from a Pepsi game can, a carabiner, dime tabs and melted aluminum from the campfires.
The Pepsi can is from an older can. When they first started using pull off beaver tail tabs, only the lid was aluminum, the rest of the can was steel and would rust away leaving just the lid and tab behind in the ground for us to find. This lid if from the 21 game. The goal was to collect tabs that added up to exactly 21. The even numbers were easy to find. The odd ones needed to make the exact 21 were the tough ones.
DAY 4
I went to one of the local parks where I do a lot of water hunting and did some beach and low water lake bed searching. I got lucky and found a few coin hot spots but nothing special. In 4.5 hours I found 194 coins with a face value of $8.66, fishing sinkers, a cheapie ring, a Canadian dime, a pendant, a piece of electronic equipment, a play spoon, an old plated spoon bowl, a bunch of can tabs and some foil and can slaw.
I always keep my eyes open and find coins almost anywhere. Here are the recent ones.
We went back to Baltimore again, more doctor visits, and I got in a morning walk. 3 quarters, 2 dimes and 3 pennies with a cheapie earring for good measure.
After my Baltimore walk I went into the grocery store to get a chi tea at Starbucks and checked the coinstar machine. It had a nice handful of change with a FAMILY FUN CENTER taken and a British penny. A grand total of $2.83, better than some 4 hour detector hunts LOL.
So lots of clad, another civil war bullet, a cool Orioles medal and fun in the cold and windy outdoors. Thank goodness we have only had snow showers with nothing but a light dusting on the ground and it gets warm enough during the day so the ground has stayed soft enough to dig . Thanks for looking, stay safe, good luck and may you coil lead you to good things.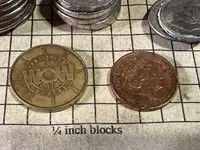 '