Apr 20, 2018
1,608
7,563
🏆 Honorable Mentions:
Detector(s) used

Fisher CZ-21, Minelab Excalibur,Garret AT Pro,
Primary Interest:

All Treasure Hunting
I went back to the swimming area I detected while we were camping earlier this summer. I was surprised at how low the water was. In the deepest part of the swimming area it was just thigh deep and the area covered by water is about half what it usually is at this time of year. We really need rain badly. We are getting some showers, but we need long soaking rains.
I spent 4 hours doing a quick beach check and gridding the swim area. I didn't get finished the swim area and I will need to come back and do a better check of the beach. I found 24 coins with a face value of $2.64, 6 earrings, 3 rings, a selfie stick retainer, 5 earring backs, a clasp, a small piece of chain, sinkers, 2 tabs and of course foil.
The small dolphin earring is 14k, the small stud earring is silver and the ring with the turquoise stone is silver as well. The other rings are 1 plated copper and 1 stainless. In the shallow water with the sun shining I actually saw a small part of the silver ring's edge shining in the bottom before I got my coil over it.
I'm still raking in the small stuff. The dolphin and the stud are light and didn't give a very strong signal, but the ATPro let me know they were there. Both of them are too small for the CZ21 or the Excalibur to register. I have to scoop all the foil and tiny bits of other nonferrous metals to get the goodies, but it is worth it to me.
I decided to go back and finish the next day. I only had 3 hours and only finished the water. When I was ready to get on the beach my wife called and our well pump was not working so I had to go home and call the plumber to come and try and fix it so we had water. The problems of living in the boonies.
I did manage to find 12 coins with a face value of $1.43, 3 more rings, 2 earrings, 2 more earring backs, a sequin, a starter pistol blank, 6 sinkers, a selfie stick retainer, 1 tab and parts of 3 others (these new tabs are meant to stay on the can, why don't people leave them where they belong), and of course foil. I normally find personal tent pegs as well (I don't mention them most times) and the good ones go to the scouts because they are like everyone else and they keep loosing them. As long as I detect my troop will never run out of tent pegs.
The gold ring was the only goodie for this day. It is a really cute little ring and I do mean little. It just barely goes on the end of my pinky and my hands are not that big. So this is an infant sized ring. It was a solid 44 on the ATPro so it is right in the foil range. The second ring looks like silver, but after a close look inside I can see an irregular seam in spots on the inside and that usually means a cheapie. The third one is a common kiddie ring with a plastic cover on the outside that sells for $.50 to a $1.00 at the snack bar.
I did my weekly trip to the scout camp and worked on finishing the campsite from last time and discovered a section off to one side where some tents had been long ago that I had not covered before.
In 6 hours I found 144 coins with a face value of $13.50, 67 camp tent pegs, 4 neckerchief slides, 7 rope tensioners, a FREEDOM token, a flattened roundball, a BEAR rank pin, a horse head pendant, part of a belt knife hanger, 4 sinkers, lots of melted aluminum from the fires and a few tabs. I also found a real nice .69 caliber round ball but it must have fallen out of pouch.
The roundballs came from an area near the old homestead and these were found in the Cub Scout part of camp. Cubs cannot use anything more powerful than a BB gun and these had a thick coat of white lead oxide so they are are probably oldies. With roundballs there is no way to be sure, but I'm pretty sure about these. Too bad the best one got lost again.
Went back to the scout camp to finish the campsite and try and find the missing roundball but them I got there a group was camping on the site. The spot where I thought the roundball was not actually in the site but off to the side so I did look for it, but no luck. I went to some grassy spots around a few of the building. No one camps on these spots, but they do get a lot of traffic and I did swing as I was walking in the woods from the truck and in between spots.
In 6 hours with old reliable I found 132 coins with a face value of $13.13, 19 camp tent pegs, a dead pocket knife, 9 tokens, 2 rope tensioners, a Webelos slide, a flagpole medallion, a stainless fork (either the meal eaten with this fork was really toxic or someone got really mad at the poor thing), some tabs and construction aluminum
The flagpole medallion is an unusual find. Not my first one, but still not something you find very often. They are used to hold the campsite flagpole plaque on the concrete base. The plaque has the name of the site and the sponsor who financed the site construction. That will go back to the ranger so it can be put back on somewhere where one is missing.
Do you ever get tired of digging can tabs? Beaver tails I can understand, they were meant to be taken off the can. Lots of people dropped them into their can while there was still drink left and some people choked on the tabs. So they went to tabs meant to stay on the can. If they are meant to stay on the can why do we find so many of them in the ground without the can? People need to leave them where they belong so we don't have to deal with the little nuisances.
The coinstars and coin returns have been empty this week. I did find 2 pennies the day we walked at the mall. We had to go back to Baltimore for a check up with my wife's surgeon and so I walked around parking lots and managed to find 14 coins with a face value of $0.83. On the way home we stopped at a rest area and the coin return of one machine gave me 9 dimes. Thanks again to all of you who wished my wife a speedy recovery. She is doing very well.
So gold and silver from the water and lots of clad and a nice variety from the scout camp. I will be doing some more water hunting next week, but not much (more doctor visits in Baltimore, things are ok, just normal routine visits for my wife's surgery). Another good week, thanks for looking, stay safe, good luck and keep swingin.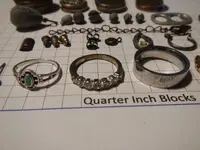 P. S. The euro coin was a nice addition. We are going to be in Germany for 2 days on our way to Norway next month so I can spend it there.