Please help: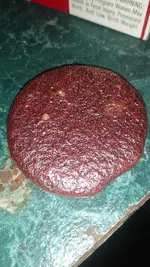 This object, in my humble opinion, has been molten and at some point sent airborne until it landed on an early bird-like creature. This occurs to me because of the flame-like pattern on its top and the impressions in its bottom. To my mind's eye it appears as if the feather like impressions include scales that appear as the uniform but not quite round impressions seen in some of the close-up photos made with a magnifying app.
This object can be subjected to a propane torch and it does not retain heat very much at all. The length of time it has been placed under such heat would burn the hand if it were any other metal yet this object barely feels warmed.
The tests were performed at the Jewelry Exchange in Dalton, Georgia by the owner of said jewelry store with him offering eighty-five hundred dollars on the spot stating that he wanted it more for the rarity of the object than the 117 grams +/- of the gold makes up the majority of material present. The owner subsequently called day after day until his offer was in excess of twelve thousand five hundred dollars whereas he was told that the object was no longer available and to please stop calling trying to buy it.
I feel by now I will have either lost your attention entirely or I have successfully satisfied your curiosity as to whether I'm legit in what I am proposing that this object in my possession may actually be.
Again, I want to thank you for any considerations and I beg of you if you do not believe what I am proposing this object may be that you will at least share this conversation and the photos to others that you may deem helpful in identifying or disproving what I say or that may otherwise be in need if a good laugh.