Howdy folks.
I found this a while ago at a site that's given up finds from colonial to modern junk. It's a small cross, made of brass with some gold plating remaining. Some incuse designs on the front, plain on the back, and very thin.
I know it's a long shot but does anyone have a guess about the age or how it was worn?
It seems a little thin to be a pendant. But who knows? I don't see any place for it to be strung either. Maybe something snapped off, or it broke off a larger piece.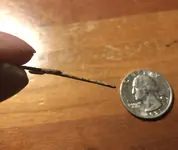 Thanks for looking!