We went to our fav park on Sun. But didn't find a lot. We hit some new areas. I won biggest lid and Bob found a rare blue pull tab! I got an IHP and he got a Wheatie.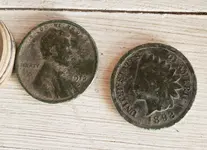 Then today we stopped at the school across the street where they redid the sidewalk. Got a couple of wheats.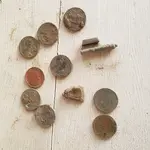 Then we ventured into the woods where we know of an old foundation. In the past we found an old RR lock and a very old dog tag from the late 1800's.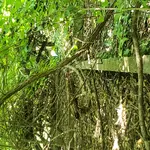 This was our first time back there since upgrading our detectors. We had such high hopes! Got a lot of iron and one V nickle for 5 hours of digging. Found the thickest harmonica part I have ever seen. Also found shell tops, a bed ring and what might be part of a curb bridle? We had a great time out there but cannot figure out why there are no coins. Broke like everyone else I guess! Hope you all had a great weekend!!