HI All,
I hope everyone is enjoying the long weekend and getting out hunting for treasure.
To keep the story short;
My grandfather was a rock hound. He spent years of retirement hunting cool places in the California sierras. Long story short, I inherited most of his tools and rock collection. I?ve had them for over 35 years in the shed. The rocks posted here I recently cut open. They were all from Calaveras County Mother Load. This is per his notes and I?m sure could be traced. I have several, including a few larger pieces of 20+lbs.
I?m having it assayed since my rockhound friend thinks they are silver, copper, gold ore. There are some pieces of native copper on a few. Lots of gold flake and silver flake can be seen in clear sections of the polished work.
While I wait on the assay can anyone say if they?ve seen t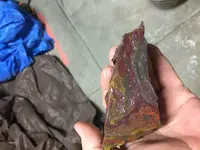 his variety and is it jasper and hematite or other?
Much appreciated for any help.