Apr 9, 2012
11,527
33,359
🥇 Banner finds
🏆 Honorable Mentions:
Detector(s) used

Garrett AT-MAX
Garrett AT-PRO,
Garrett Groundhog,
Pro-Pointer,

Jack Hammer!
Primary Interest:

All Treasure Hunting
UPDATED BUTTON PICS
An old friend was in town today and we met up for an old game we used to play.
He told me to pick out one of the hardest hit places in the area. You know, the
one that's "hunted out"? That park that almost nobody goes to except newbies that
don't know any better? LOL
It also has to be a place with at the barest minimum, a "chance" that something older
might
turn up.
So, we went. The object of the game? Not the most in amount, not silver/gold, not the most expensive.
But, the oldest! (It's a good challenging game. It makes one have to really concentrate on what the detector
is saying.)
Time limit was 1 hour.
He got quite a bit of clad, mostly new drops. But, when I showed him mine, he just grumbled.
(he was seething! I'd beat him again, he has NEVER beat me. LOL )
Here's my take: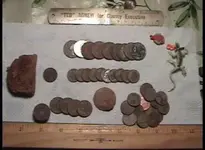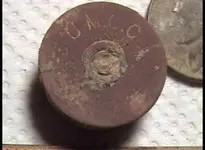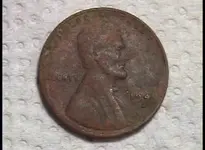 Yep, I EVEN scored a whole wheat toast.
AND, that is QUITE the accomplishment in this place. LOL
But, it wasn't the oldest thing, at least, I don't think it so.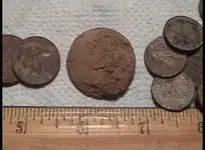 It's a button, I'm pretty sure it's old. This is what I started with before trying to clean.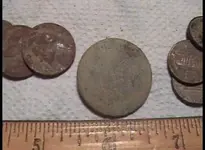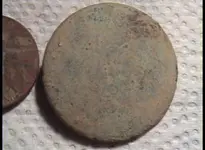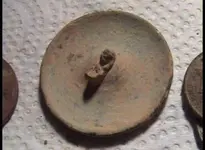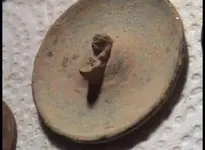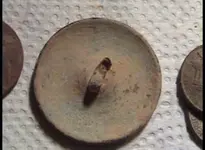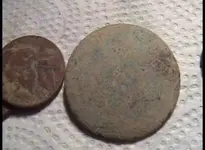 It's non-magnetic, weighs in at a fairly hefty 8.5 grams. I'm not sure if I'm seeing ANY patterns emerging.
Thought I'd let you guys peek and suggest. I'm just not sure if anything further is going to prove worthwhile.
I'm thinking of a bit of soap and water next. Any ideas?
Then, there was this bit of strangeness.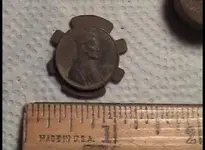 This is the way this came out of the hole. Together, just like that!
Just a zincoln, but, what the heck is the other piece?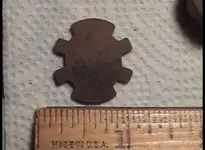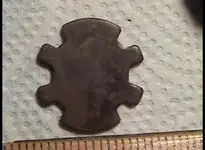 Smooth on both sides. I believe copper.
A bit of substance to it but....

LOL
Anyway, my friend congratulated me on picking a park that truly had "nothing" left! LOL
I'm not an ogre though, we're planning on meeting up tomorrow and I'm going to surprise him
with a trip to "my" mansion. I KNOW he'll appreciate that, even if nothing is found.
Thanks for stopping by!
Last edited: