Oct 25, 2020
2,354
5,829
🥇 Banner finds
Detector(s) used

Garrett ACE 400, Nokta Simplex+, Nokta Legend
Primary Interest:

All Treasure Hunting
Thought I'd try something new today so I hit a spot where they have a farmers market one day a week. Somebody had already beat me to it as there were holes everywhere. At least they left me gas money!

Ended up with $13.68 in clad, and a bunch of junk. The odd looking ring had me going as it rang up like gold. It tested as nickel. Must be some alloy to give it the yellow color, no markings on it. Gonna put the Jerry Garcia guitar pin on my huntin' hat.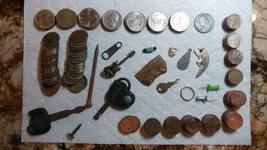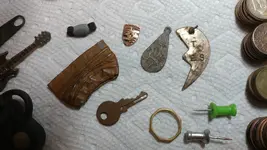 Thanks for lookin' and hope everybody's having some fun!