Aug 14, 2016
781
6,382
🥇 Banner finds
Detector(s) used

Deus XP
Primary Interest:

All Treasure Hunting
Can not believe I actually found one of these! Crummy signal, end of the day, and when I first saw it in the plug dirt I had that moment where I was like like: 'oh nice clay pipe bowl, now where's what the detector actually picked up?' But when I had it in my hand, I knew immediately what I had found and that it was uber rare!

Credit where credit is due, I only knew what this was and the significance of it due to Silver Tree Chaser's post a few years back:
http://www.treasurenet.com/forums/today-s-finds/540047-rare-find-17th-century-pewter-pipe-native-american-handmade.html
For those of you who weren't on the forum at the time, I would highly recommend reading through the above post because the history is fascinating. In a nutshell though these pewter pipes were fashioned by Native Americans as opposed to European-made imports. Some have effigy designs like animals, but it seems that many are plain like the one I found and made to resemble the European clay pipes. The academic reference book on these pipes ("Neat and Artificial Pipes:" Base Metal Trade Pipes of the Northeastern Indians) places their most common usage between 1645 and 1680 and with very few exceptions are found exclusively at Native American sites. They are also very rare with the above publication giving a museum census of only 43 examples and perhaps 150 known in total!
It's in decent shape considering the ground around here is punishing on pewter. I quickly conserved it when I got home and prevented further crumbling: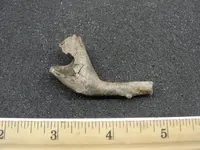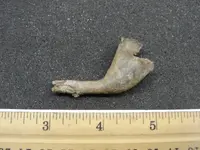 I marked where I found it so when I return I'll bring a bucket and a sifter to see if I can recover more of the pipe stem, but I wasn't getting any more signals out of the ground so it may not be there which wouldn't surprise me.
I found this pipe at a new spot I've been investigating lately, although it clearly predates the European settlement by close to 100 years. It's along a good sized river with an extensive set of falls. In the 1760's an iron forge was established here and I located where the seasonal workers made their camp while the forge was operating. It's just a flat area of woods now, but before this piece I'd been pulling up exclusively 18th century finds which made sense due to the fact that the forge closed down in the 1790's.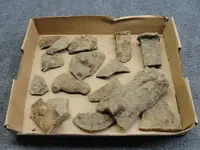 You can see so far I've found a handful of mid-1700's buttons, a knee buckle, partial barrel spigot, and part of a molasses skimmer. I've also found close to 60 pounds of iron. That cardboard tray is less than half and it's mostly huge fragments of pig iron from the smelting furnaces. There are also dozens of iron cooking pot fragments and I know there's more to this site than what I've found so far. Only two copper coins as of yet: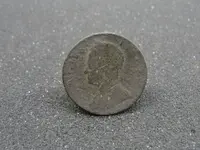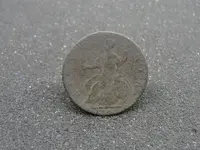 Not too bad 1746 King George II halfpenny, and a regal issue unlike the King George III: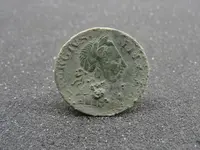 Dated 1775, but definitely a later counterfeit. It's in fantastic shape besides the metal bubbling which I suspect is due to a poor purity copper that the counterfeiters used. All-in-all a solid 18th century site, but the pewter pipe just knocks it out of the park!
The area is known to have had extensive Native American settlement and activity prior to the European land patents. The falls would have been a major landmark to the local tribes and I'm sure there was activity around them. This pipe may be the only metal artifact, but there could be hundreds more stone or earthenware pieces scattered about the woods that I'm walking over. It was just blind luck that I found this in a patch that also had 18th century activity and I can't even begin to fathom the odds of running across it where I did. Hopefully there's more that I stumble on, but even if not I'm thrilled to have found even this one little piece!