Apr 20, 2018
1,490
6,710
🏆 Honorable Mentions:
Detector(s) used

Fisher CZ-21, Minelab Excalibur,Garret AT Pro,
Primary Interest:

All Treasure Hunting
I buy gift cards regularly at a local private school. They get a percentage of the sale that goes to their scholarship fund. I often share info about my finds with the lady who runs the program and have actually gotten her help to return 2 lost class rings from the school. When I was there a week ago she mentioned that the homecoming Queen had lost a silver ring during a yearbook photo shoot. She had it on over her glove so it would show up in the pictures and when they were done the ring was gone. The lady asked me if I would try and find it. She pointed out a well defined area they had used for the picture taking. I told her I would do my best, but if the ring fell off while they were walking across the parking lot the ring was probably on someone's tire or miles down the road by now.
I have had permission to detect at the school for several years so no problem there. But I find it best to do so when nothing else is going on at the school. So Sunday morning was the only time I had to search because of the school schedule and my wife's plans for me. Naturally it was pouring down rain when I got there with the prospect of it continuing for several hours. I got out my markers and my CZ21 and started a grid search of the photo shoot area covering extra space in case it fell off after the shoot as they left the area (they took pictures of the ring on her hand so it could not have been lost before the shoot).
I worked the grid for almost an hour and found a few coins, but no ring. I figured I would go see my friend on Monday and see if I could get more info to help with the search. I picked up my markers and started moving off to detect elsewhere while I was there. I got a mixed high tone close to the high curb on the edge of the parking lot just outside the search area. I took out the Garrett carrot and as I pushed it through the grass I got a response and could see the delicate tiara ring on edge shining out of the grass. 5 minutes later the rain stopped.
​
The ring is a small tiara style silver ring with CZs in it. A ring fit for a queen. It is marked 925 but no makers mark.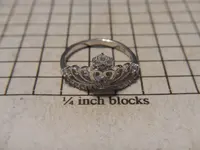 ​
I stopped at the school early today to make the return. They called the queen to the office and I was able to make the return. She was really surprised I found it and never stopped smiling the whole time she was in the office. It returns out she was given the ring and a matching set of earrings by a special friend the day before the photo shoot. She had not had the ring for 24 hours before it was lost. She had put it on her pinky because it wouldn't fit on her ring finger with the gloves on.
I did get her picture with the ring, but she is a minor and I did not get a parental consent so I will keep it for my records, but not post it.
I detected for a total of 2.5 hours before I had to go. I found a total of 40 coins with a face value of $2.72 including a 1978 British 2 pee New Pence. Nothing else interesting or exciting but a found ring is a good thing and a returned ring is even better. It felt so great to see her excitement and joy at receiving her ring back.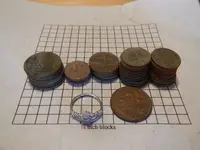 ​
This hobby can be a lot of work and is hard on the old man at times, but these days and days when you find something really cool make it all worth while. Thanks for looking and may your coil lead you to good things.