Gold Member

Aug 24, 2017
14,009
23,823
🥇 Banner finds
🏆 Honorable Mentions:
Detector(s) used

Minelab CTX 3030; Minelab Equinox 800;
XP Deus 2
Primary Interest:

All Treasure Hunting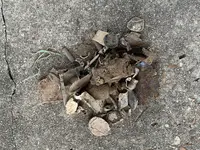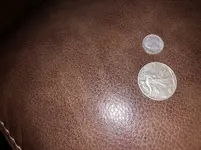 ]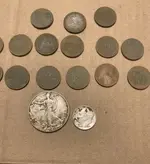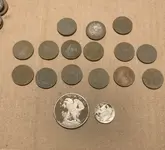 Very Nice hunt today! Found the Silver Rosie the second house on a curb strip. By the time I found the next place it was late. As soon as it started getting dark I hit a banging 33 in both directions. I told Myself it's gotta be a half! Dug the parameter of the hole extra big. Pulled the plug out that was 6"+, grabbed a handful feeling it about at the 7 or 8" mark as I pulled it out. Another Beautiful Walker!!! I like finding these A lot! Such a Pretty coin. I'll post a pic after I clean it. The detail is Super on this one too!!!! Silver #44fty!!! Thanks for Looking!!!!
It's been awhile since I've included a pic of the trash from a hunt, so I also included one of the trash for this hunt.
Wheats- 1941, 1939, 1957D, 1956D, 1944D, 1940, 1940, 1950, 1944D, 1942, 1944D, 1952, 1928, 1942
In the picture that shows all the finds, the Nickel sized coin to the far right is a New Zealand 1969 2 Cent Coin.
Happy Hunting!!!!!!!
Last edited: