In memory of our beloved "Punky"
This post is in memory of our beloved Sun Conure, "Punky", a small type of parrot with a heart as big as gold. He was some what of my detecting sidekick as he loved to get out in the fresh air, sitting on my shoulder, as I swung my coil. His death was a result of tangling with our cat, a battle he usually won, as he had done it several different times in the past. He was very protective of us and very territorial not allowing the other animals to get on the furniture. A few days ago he attacked the cat on the back of the sofa and they both fell to the floor. The cat scooted on out the door but Punky was moving a little slow. As like a few times in the past he stayed in his cage to recover from his ordeal. He seemed to be doing ok, but a few hours before his death he stumbled out of his cage and wanted us to hold him. I had a feeling then that he was not going to make it, so we all held him one last time before he passed. He seemed to go peacefully only to make a few small peeps as he took his last breath.
I know he was just a bird to some but he was a true friend and companon to me and was always on my shoulder in morning as I read my email, and read the many post here on TNet.
Thank you TreasureNet for having a section on the forum where I can post a small memorial to him...
Here he is doing what I always called his Supperman impression:
A few other pics of him simply looking as sweet as he was...
Sitting on the porch trying to catch a few z's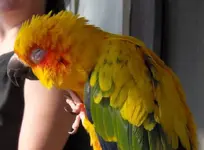 Just after a one of his baths. He looked a little cold in this pic...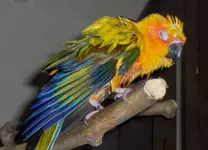 Here is where he spent most of the winter months as he didn't like the cold...
I recently constructed a grape arbor and planted a small tree in the back yard, so we buried him at the base of the tree and made a marker using a sign we had bought as a joke. We later found out that the sign was a necessity...
He was 2-1/2 years older than what the marker reads, but we recieved him on Feb 12, 2004...
He will be missed...