I had the opportunity to do some work in BVI and was able to bring my Equinox 800 along for the ride. Had a boat drop me off on an island near Virgin Gorda on 3 separate occasions and went full Robinson Caruso on the island. It was probably the roughest detecting I've ever done, no marked trails, steep inclines, cliffs, head tall vegetation full of cacti and throned bushes, spiders, bees, hoards of wild goats and 85 degree heat with almost no shade.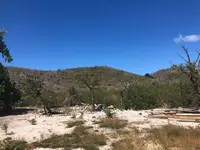 Day 1: I spotted a tree about half way up the hill that stood out as being bigger then the rest of the vegetation and made my way to it. It was obviously an old camp site. Along the hills edge were countless old broken bottles (unfortunately I couldn't find any that were intact) and burned cong shells. None of the items were more then 2-3 inches under ground dude to rocky terrain.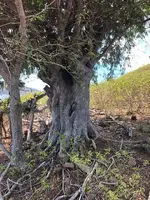 I found several what I believe are musket balls .65 - .67 caliber according to my caliper.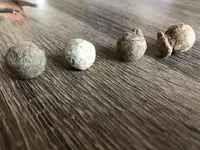 Several smaller musket balls with punched out holes (apx .59 in). I'm open to suggestions on what you guys think these are. I've seen musket balls being re-purposed as fishing net weights. However the holes seem very narrow? Could these have been used as jewelry?
I pulled out (and completely scratched

a flat button). It has the word "Plated" on the back.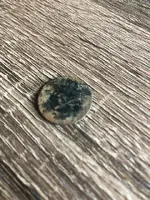 Favorite found of the day was a lead playing die!
Day 2: I decided to push to the top of the biggest hill. Again there was evidence of a camp site. Old broken glass bottles, pottery fragments, and more of the same;
Day 3: this was yet another overgrown camp site between two hill tops. I snagged a nice button. The back reads "Rich Gold Surface".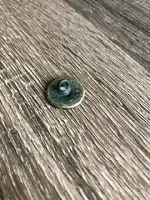 A couple of what's its

And a few more musket balls.
A rather large .97 in (apx 25mm) lead shell fragment. This one stumps me. I found fragments of these shells all over the base and middle of the island.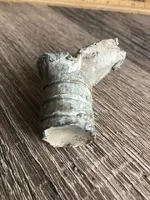 Although I was really hoping for a coin to help date the site, I still had a blast, not to mention a hell of a workout.
I'm hoping the TNet community can chime in on ANY pictures you see to help with dating these finds!!!
Few more group pictures: